Women Cargo Bottoms: A Die Heart Fashion For Divas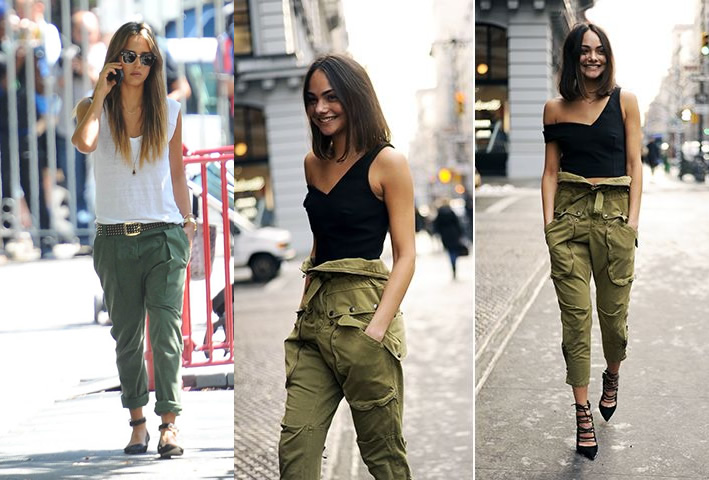 When it becomes the matter of dressing elegantly & stylishly for any event, we generally affix our all attention to the hangers of upper wear, because denim jeans or a simple skirt is always to be considered as the companion of them. But is it satisfactory to embrace the same pattern of clothes every time? The most important part of dressing up is that there must have to be a proper balance between top & bottom that complement each other. A huge number of women bottom wears already have colonized the fashion world. Among them, women cargo bottoms are one more gem that makes you exceptional while stepping out from the house.
There was a time when women wore long skirts instead of trouser as in many places; a trouser was prohibited for women. But with the changing of time, bottom wear has directed women fashion in a new way. Besides trouser pants, culottes, denim jeans or pencil skirts, women cargo bottoms also have modernized their everyday fashion & add a flavour of freshness in their sophisticated & urbane style.
About cargo bottoms, one usually marks the cargo pants that are masculine in touch. But, if you excavate profoundly into the ground of fashion, we are sure that you will find several numbers of style in women cargo bottoms. Some unique styles are explained here-
Women Cargo Skirts:
It is said that skirts are the older piece of wear for women than a pant. A skirt is an emblem of status & modesty and also an epitome of traditional wear. You will be surprised to know that almost sixty-five or more types of skirts have been competing in the runway of fashion for decades. Among them, women cargo skirts have drastically fetched an innovative addition to fashion.
Mini length khaki or olive coloured cargo miniskirts are also very fashionable and terrific in style. To look more erotic & smart, wear a full sleeve black top with a belt around the waist; it will enhance your bold appearance to everyone.
Cargo skirts with many pockets are a very stirring and hip-hop look in fashion.
You can wear a knee-length cargo skirt. It is a great choice as streetwear or as an office outfit for everyday fashion.
Women Cargo Pants:
Cargo pants are the most beneficial staple for outdoor activities. With a dozen pockets and numerous types of style, this women cargo pant in recent time is a very daring approach in style. There are several kinds of cargo pants available on market. Some are-
Cropped cargo pants
Skinny cargo pants
Denim cargo pants
Jogger cargo pants
Harem cargo pants
Loose-fitted cargo pants
Most cargo pants are made of cotton, stretchable and comfortable in quality.
Women Cargo Shorts & Half Pants:
The list of women cargo bottoms is not ended here without including a cargo short & half pant as-
These types are very chic & elite in style.
The pants are very suitable for any type of tracking or wildlife safari during summer.
Women cargo bottoms are for all and the most significant example in fashion. So, try this style for one & get the rocks confidently.