Understand Kurti Patterns To Make The Best Purchase Decision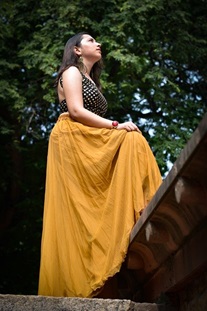 Kurtis have been around for centuries with men wearing kurtas mostly in northern India and neighbouring countries. Starting with men, these loose and comfortable clothing outfits became a favourite for women for several decades, and is now in vogue with kurtis being the best choice for working women.
A traditional alternative to western outfits like denim and tops, suits, or dresses, kurtis offer an effortlessly ethnic look that offers the same kind of mobility and comfort. As the demand for kurtis has spread across the globe, it has inspired designers to come up with a host of different patterns, each having its own distinct style.
There are several things to consider when shopping for kurtis, including budget, size, occasion, fabric, and others. But most importantly, you have to decide the kind of look you are going for that suits the occasion and circumstances.
To help you select the best kurti pattern that suits your need, you have to familiarise yourself with the different kurti patterns available in the market.
Anarkali Kurtis: The modern anarkali kurtis were inspired by and named after the famous courtesan in the court of Mughal Emperor Akbar. Descending from a rich heritage, these patterns with heavy flare have risen in popularity among young women and girls alike when it comes to women's clothing for festivities and special occasions.
These kurtis are usually made of heavy and rich fabric, and sometimes georgette, and are adorned with embroidery or stone and other embellishments. Coupled with bright and vibrant colors, anarkali kurtis offer a rich traditional look that perfectly suits weddings or pujas.
Anarkali kurtis can be paired with heavy dangling earrings like jhumkas, and ethnica jackets, and bracelets or bangles for a complete party look.
Trail Cut Kurtis: These kurtis have a C-shaped cut on both sides, front and behind, leaving trails on the sides. The overall look that this pattern of kurtis provide depends heavily on the texture of the fabric. Silk, georgette, chiffon, crepe or any light material that can easily ruffle looks good for trail cut kurtis.
These can be paired with leggings, denims or tights, with stud or dangling earrings along with pumps, sandals or Kolhapuris. They are best suited for semi-formal occasions and offer an Indo-western look.
A-Line Kurtis: As the name suggests, the flares in these kurtis usually reach till the calf or the ankle and form an A-shaped outline. Therefore, A-line kurtis are suitable for every body type, and are available in a variety of colours, designs, and length.
These kurtis are suitable for both casual and formal wear, and when paired with stud or dangling earrings, delicate bracelets, and heels, they can really accentuate your overall look.
Tail-Cut Kurtis: These kurtis are short from one side either front or back and give a tail like effect. You can select a tail length that suits your style and can sometimes be worn as a dress without bottoms for an Indo-western look.
Maxi Kurtis: Much like maxis, these kurtis are suitable for every body type and offer maximum comfort. These are usually ankle-length with medium flare, and are suitable for semi-formal and casual occasions. Add a small clutch and delicate earrings to amp up your style quotient.