The Finishing Touch: Necklace Style Guide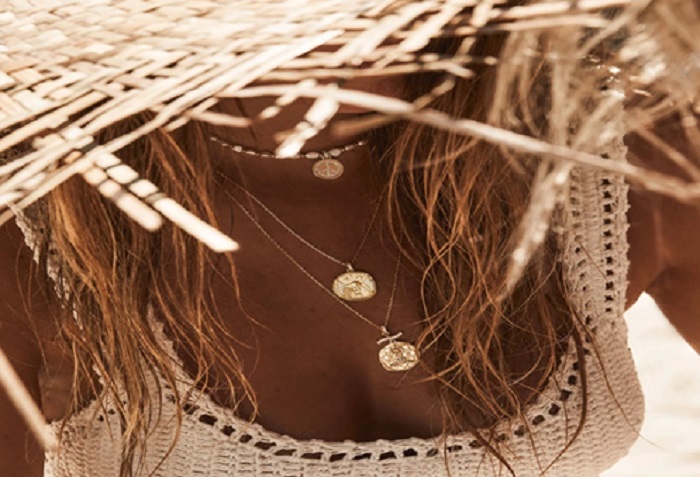 Necklaces are the perfect finishing touch to literally every outfit in your closet, they can actually make such a huge difference to the final look and feel of all your clothing. There's a tonne of options out there when it comes to investing in, making or hunting down that dream necklace of yours. In fact, there are so many options that you might not even know where to start! Well, you've come to the right place! Here is a breakdown of all the different necklaces you're going to encounter on your search, with a few styling tips along the way…
Chain
Ahh, chain necklaces. This style is such a classic favourite, and it's been reinvented in so many awesome formations that you're sure to stumble across a heap of them when you're scrolling through product pages. Two of the most stylish options include dainty chains and chunky chains, polar opposites that both give you big fashion points when you wear them. Chunky chains have really come into their own during the recent boom of 90s fashion. A shining gold chunky chain necklace will add a touch of glamour to all outfits, maximise the impact of tee shirt and jeans or tie together your evening dress – it's always going to look cool. Delicate chains, on the other hand, are perfect for layering up and creating a feminine, alluring look. Or, for the modern minimalist, just one delicate chain necklace will bring a hint of shine to your neutral outfits.
Charm
Charm or trinket necklaces are the ideal everyday embellishment. Usually, this style will be on a thin metal chain that sits around the 14 to 16-inch mark, however, you can also find them in leather cord. A charm that's studded with your birthstone or carved with a positive affirmation will bring a lovely personal touch to your jewellery.
Choker
Chokers are back in a big way! This time around, the choker is all grown up and at the height of fashion. Choose a simple link style or opt for a slightly more theatrical look with a studded crystal or gemstone style. As long as your necklace sits between the 12- and 14-inch length options, it's going to look very on-trend.
Pendant
Pendant necklaces are great for those who love to do a little layering on a day to day basis. A statement pendant can really be anything that catches your eye, however, there's no denying that the coin pendant trend has been a fashion favourite for a solid few seasons. Make sure your pendant is 18 to 22 inches long to really get the drama of a bold, low sitting embellishment. Layer with one shorter style or pile on different styles for full bohemian drama.
Layered
Layered necklaces look so incredibly beautiful; however, they can become a twisted mess very quickly. Cue the always handed layered necklace! This style is a lifesaver when you want full impact with minimal effort. Find a style with three or four chains clasped together if you love a bold look or opt for two for a day to day embellishment.
Stone
Whether it be a gemstone, birthstone, shining crystal or decadent diamond, stone studded necklaces are always going to be a winner in the world of jewellery. This can be in whatever style, length or form that you like! Just be sure to select a tone that compliments your personal taste and your colouring to really hit the nail on the head.
Collar
A collar necklace is a big, bold necklace that you're typically going to be wearing to more formal events unless you love to dress up on the daily. Look for resin or rose gold if you really want to stand out from the crowd. Keep in mind that these can be heavy, so not great if you want to wear your piece all day long.
Fabric
Not all necklaces are crafted from typical jewellery materials! Materials such as velvet, lace, leather and cord are all beautiful options when it comes to finding a necklace. Make sure you don't box yourself by only cheeking out metal options, your accessories can be as creative and unique as you like!
Necklaces for women really have no bounds – get out there and get searching to find your perfect fit.