Surgical vs Nonsurgical Facelift Options: Which Is Right for You?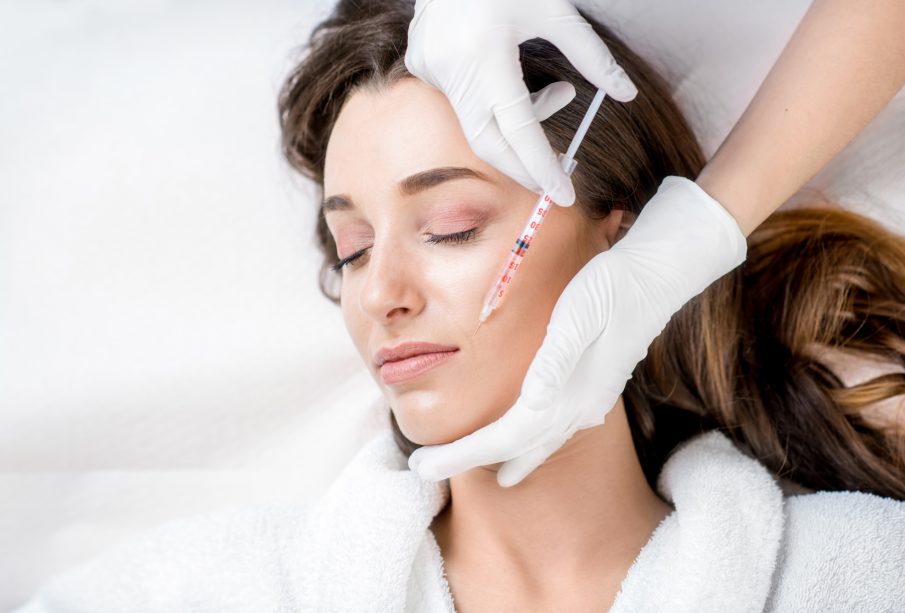 Once viewed as an exclusive option for celebrities and the super-rich, having a facelift is now more and more commonplace. We no longer have to accept the aging process; we can help to control it.
According to the American Society of Plastic Surgeons, the number of Americans having surgical facelifts is on the rise and the number of non-surgical facelifts is increasing even faster. As more facelift options become available and treatment becomes easier to access, more of us are looking for that little lift!
No matter which option you choose, the decision to have a facelift is incredibly personal. But it shouldn't be taken lightly. In this post, we'll compare the pros and cons of surgical and non-surgical facelifts so you can make the right choice for you.
Surgical Facelifts: What You Need to Know
A surgical facelift or Rhytidectomy is performed under general anesthetic and aims to tighten the soft tissue in the face and neck to rejuvenate aging skin. Facelifts address common skin concerns like deep creases in the skin, sagging cheeks, and excess fat on the neck.
In recent years, surgical facelifts have come under fire in the press, thanks to celebrities sporting 'over-corrected' looks. However, with modern techniques and a skilled plastic surgeon, this can be avoided and a subtle, refreshed look can be achieved.
What Happens During a Surgical Facelift?
A surgical facelift can make you look years younger. Here's how they do it:
Step 1: Tightening the Skin's Structure 
Aging doesn't just affect your skin. The underlying structures of your face are also impacted over time, which can cause sagging.
Before addressing your loose skin, a plastic surgeon will tighten your facial muscles to create a younger face shape. This process reduces the tension in your skin and prolongs the results of your facelift.
Step 2: Repair Loose Skin 
Once your plastic surgeon has corrected your facial structure, they'll tighten your skin to ensure a more youthful look. If your skin is pulled too tight it can leave you with a permanent 'stretched' look- this is why it's so important to choose an accredited plastic surgeon for your procedure.
Step 3: Improve facial contours
Surgical facelifts improve the contour of your jaw, cheeks, and lower eyelids. Say goodbye to sagging necks and jowls and hello to defined décolletage.
Cons of Surgical Facelifts 
Surgical facelifts promise long-lasting results but they also have their downsides. Make sure you're aware of the drawbacks as well as the benefits:
Recovery Time
Don't expect to be on your feet straight after a facelift, it can take a few weeks for you to recover and see the final result
Cost
Although facelifts are more affordable than they used to be, they are more expensive than non-surgical facelift options. Expect to pay between $7000 and $12000.
Risks
As with any type of surgery, there is some level of risk. You'll need to be fit and healthy to have the procedure.
Alternative, Non-Surgical Facelift Options
There's now a wide range of non-surgical facelift options available to patients and they're rapidly taking over the market. Non-surgical techniques include:
Botox
Dermal fillers
Fat transfer,
Laser treatments
Ultrasound Treatments
These treatments can be done in isolation or combined to achieve even better results. For example, liquid facelifts, where dermal fillers and botox are used to lift the face without surgery are an extremely popular non-surgical treatment.
Why Choose a Non-Surgical Facelift?
Non surgical facelift is in demand for a reason. Here's why you might benefit from an alternative to facial surgery:
Purse Friendly
A non-surgical facelift is much more affordable than the surgical alternative. Prices start from under $500, although you should expect to repeat treatments in the future.
Natural Results
In a non-surgical facelift, the skin is not cut or pulled tight. Instead, it is plumped and volumized, which gives the facial features and skin a more youthful look.
Minimal Recovery
There's next to no recovery time following a non-surgical facelift. Unlike a surgical facelift, you won't need to take time off work or avoid your daily activities.
Fewer Risks
Surgical facelifts are invasive and as result, there can be complications, such as infections. It's also permanent, so if you're not happy with the results- your stuck!  A non-surgical facelift bypasses all these risks so you can have peace of mind.
How Do I Decide Which Option Is Best for Me?
Ultimately, deciding whether the surgical or non-surgical route is best for you will depend on your skin concerns, your budget, and how comfortable you are with the idea of going under the knife.
If you only require minimal corrections, you can postpone a surgical facelift and use injectables to add volume and plump up your skin. Patients in their forties and early fifties usually prefer this facelift option as it's less invasive and still delivers an exceptional result.
If you are unsure of which route to choose, a visit with your doctor or a certified plastic surgeon is the best way to get your questions answered. They can examine your face and neck, assess your goals, and recommend the best course of action for you individually.
Can't Decide? Start With a Non-Invasive Facelift.  
If you have any doubt about a surgical facelift, start with non-surgical treatments. Most likely, you'll get the results you want without having to go under the knife and you'll spare yourself the recovery time, discomfort, and cost. As well as delivering immediate results, non-surgical treatments give you a preview of what your face will look like after surgery, and can help you understand if you'll be happy with your results.
If this post has helped you compare facelift options, why not check out the rest of our blog, for more health, beauty, and lifestyle tips.
Infographic provided by Venus Concept, a leading provider of hair restoration devices