Styling The Black Off The Shoulder Dress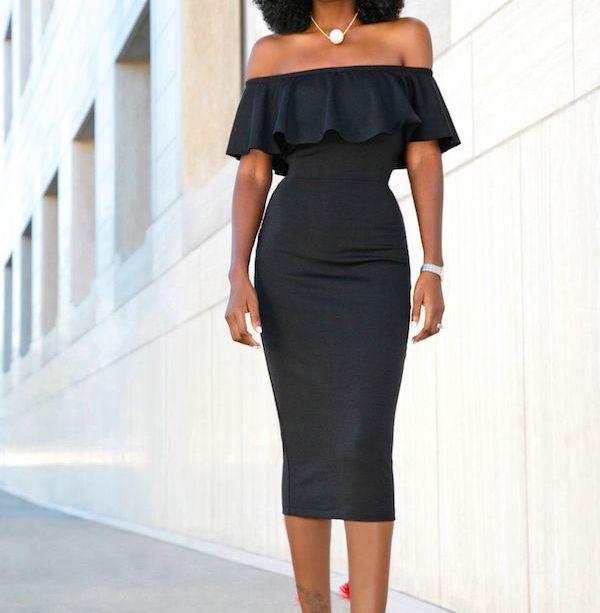 Off-shoulder dresses are a rage everywhere. While it has been in fashion and gone off only to be in fashion once again, the trendsetter style has multiple variations. One of the most popular varieties is the black off the shoulder dress that never fails to impress. 
Initially called the formal and chic attire, today this type of dress has become the best option for any occasion. From formal wear to casual attire, music festivals to weddings, you can adorn this style without feeling off the track. 
The most important part about wearing an off the shoulder dress is to choose the right bra. It changes the fit of the top and your looks too. Ideally, you should buy a good quality strapless bra. You can also choose silicon pads if you are comfortable. These are the ideal choices for a black off the shoulder dress or top, backless top, halter neck blouse, etc. Adding one such fine top to your attire can make all the difference to your final look. 
Tips to Carry the Off Shoulder Dress 
Confidence is everything when it comes to a black off the shoulder dress. Rest, you can follow the steps below:
Wear a nice strapless bra to feel more confident and easy in the off shoulder dress. This bra would keep the straps intact. So, there is no fear of the bra rolling downwards. 

If you want to try something else other than a

black off the shoulder dress

, try prints and patches with a good length. Prints cannot go wrong. Vertical prints are better if your shoulders are heavy. Similarly, shorter women should not choose cold shoulder or off shoulder outfits as it makes them look shorter. 

The choice of color is very important. Not only is the length and print but also choosing a suitable color for the outfits is important. Darker colors tend to make women look taller and thinner. So, choose colors to suit your body type. 

Bust size is significant when it comes to off-shoulder dresses. Women with heavier bust lines should choose flowy silhouettes, while others can choose clingy or fitted outfits. 

The other important aspect is to ensure that the nipples do not show. Use quality nipple pads that stick on. Do not go bare, without a bra. Any adverse condition might affect this, such as the AC. So take precautionary measures beforehand.

Off-shoulder dresses are excellent options for the winters. You can simply pair it with a top or a woolen inner or sweater for a chic look.
No matter how you choose to style your outfit, make sure you do it well. Carrying the dress is the real catch. Take all the important tips seriously and create a beautiful look. Wear your look with a smile and confidence. Only then, you are going to look attractive and drop-dead gorgeous in your black off the shoulder dress.