Secret Tips From Dr. Keshia Gaines Helps Outsmart Coronavirus (COVID-19)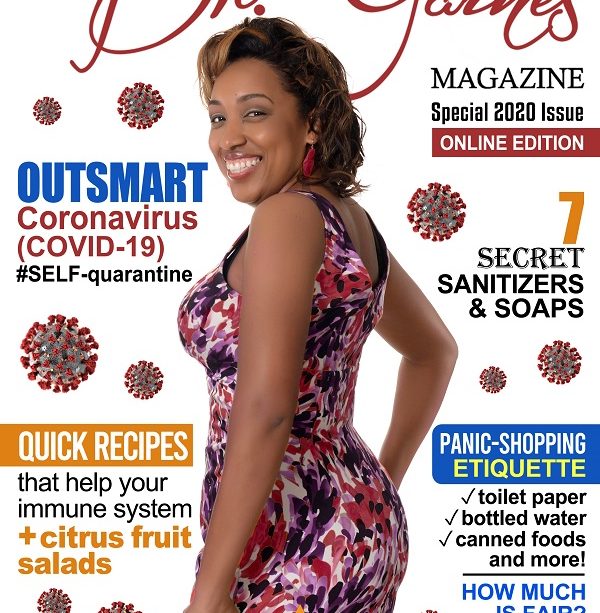 The first global crisis of the 21st century is upon us. The world needs to fight and win against the coronavirus (also called COVID–19). Education expert and rising celebrity author, Dr. Keshia Gaines has provided us with some of her secret tricks to outsmart coronavirus. Her new "coronavirus" online magazine issue received over 23,000 likes in just a few days. Also, in her online issue, she provides secret soaps & sanitizers suggestions, immune-boosting meals, panic-shopping tips, indoor games, and more. Here are some quick recipes that can help boost your immune system during the global pandemic and beyond. Visit https://www.facebook.com/drgainesmagazine  to see the published articles and Dr. Gaines's quick tips to fight coronavirus.
CHICKPEAS AND MORE!
Chickpeas are great sources of zinc and copper and are important in boosting your immune system and keeping you healthy! Here is a bonus surprise dish that you should try.
Ingredients:
2 tomatoes
10 peppercorns
3-4 finely minced garlic
1″ grated ginger
1″ cinnamon stick
2 finely chopped onions
salt
oil
Directions:
Cook the tomato, ginger, cinnamon, and peppercorns in 250 ml of water until the tomatoes are soft. Allow them to cool, then grind them and sieve them. Heat the oil in a pan. Fry the garlic and chopped onions until golden brown. Cook them in medium heat and add the tomato puree, add salt, and allow everything to boil for few minutes. Serve hot with a pinch of black pepper powder and garnish with mint leaves. Surprise!
VITAMIN C SMOOTHIE
Boosting your vitamin C intake is essential for helping to keep away sickness and improve your immune system against coronavirus. Try out this easy to make juice at home and enjoy it for breakfast!
 Ingredients:
1 orange
1/2 lemon
1/2 lime
1" ginger
1 cucumber
 fresh mint
Directions:
Set up your ingredients by chopping everything to make the juice. Leave the fruit and/or vegetable peels on for additional health benefits. Make sure to use organic ingredients and freshly bought fruit. Put the ingredients in the juicer and mix it to perfection. Enjoy!
WARM GINGER PEAR "SMOOTH-TEA"
Ingredients: 
1 pear
ginger
1 tsp maple syrup
1 tsp almond butter
2 cups unsweetened almond milk
Directions:
Put all ingredients into a mixer and blend it well. Switch it to a pan and heat gently over medium heat until it reaches your desired texture.
CITRUS FRUIT SALAD- a Dr. Keshia Gaines Favorite!
Ingredients:
1 grapefruit
1 pomegranate
1 orange
1/2 cup fresh blueberries
fresh mint leaves
Directions:
Peel the orange and pomegranate and chop them into rings
Slice the grapefruit and blueberries
Place all the fruits and berries into a bowl and sprinkle with fresh chopped mint
Add cream and mix it together!
PANIC-SHOPPING SECRETS
Apart from keeping your diet healthy and simple, you also need to re-think panic shopping. Whenever you are going to the grocery store or market, remember to get this:
a 3 weeks supply of food items because home quarantine is the best option
water in bottles or gallon jugs as it is advised to be hydrated.
hand soaps and sanitizers because clean hands can stop the spread of coronavirus
toilet paper and paper towels for your hygiene
washing powder to keep your clothes and towels sanitized
floor cleaners and disinfectant sprays to keep your house virus free
Only grab 2 or 3 of each item. Elderly and disabled customers really need these items because they are at a high risk.
You can get more details and secret tips from Dr. Keshia Gaines on her Twitter™ page https://twitter.com/Dr_KGaines. Join the trend and order a few copies of The Dr. Keshia Gaines Magazine's "7 Best Covers" Issue (with the coronavirus cover) for only $4.99 each at https://www.magcloud.com/browse/issue/1759623.