Printed sarees : Ditch your casual look!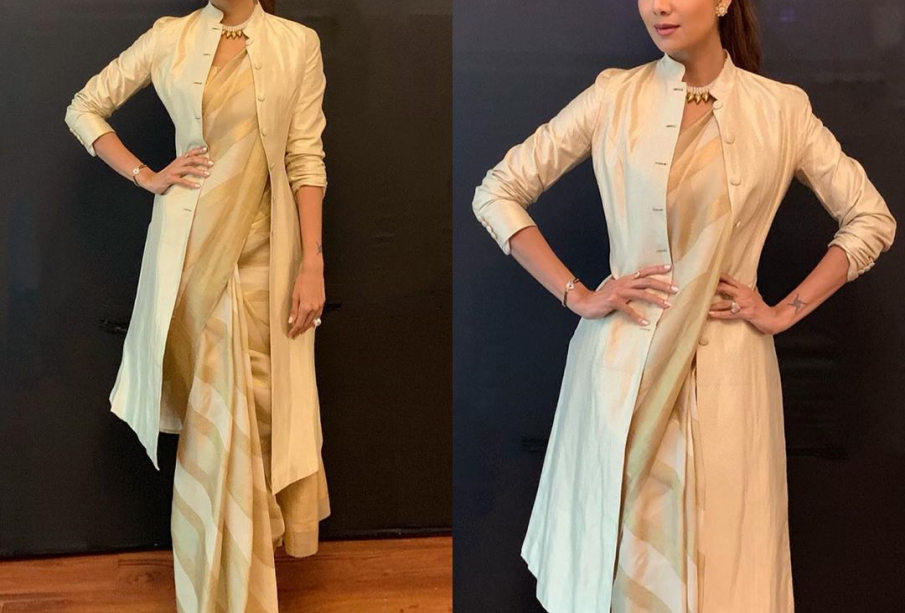 Sarees are the epitome of grace and elegance. Irrespective of the occasion, sarees are the ultimate fashion choice a woman can ever make. While solid sarees have their own charm, nothing can compare to the beauty of printed sarees, which are capable of setting you a class apart.
If you are looking forward to buying printed sarees this season, upgrade your wardrobe to the most trending ones. You can experiment with all sorts of prints, colours and fabrics while styling your traditional look.
While wearing printed sarees in a regular way is one kind, you can pull off a different look altogether by experimenting with various draping techniques such as the butterfly drape, front pallu and even the lehenga style for bigger events such as weddings.
Let's show you the different types of ways in which you can style your printed sarees
Pair with a jacket: A jacket is the best medium to quickly modernise your ethnic looks you're wearing a printed saree, a solid jacket will amp up your look. Longline jackets in traditional prints are perfect for festivities. But if you're an office-going woman, make a style statement in the boardroom by layering your minimally printed cotton saree with a solid blazer.
Embrace the dhoti trend: Dhotis are totally in fashion these days and styling your saree with one will have you make heads turn. For a classic yet minimally chic look, you can drape a printed saree over dhoti pants, which can replace your leggings. This look is super comfortable and let's not forget the praises it will bag you at a festive event.
Balance the blouse game: Blouses are an integral part of every saree and the way you balance them speaks volumes about your look. Styling a saree with a unique blouse design will work wonders for your look. You can experiment with the sleeves and the neckline to perfectly complement your saree. If you are game, you can even ditch the blouse for something more upbeat and quirky such as crop tops or T-shirts.
Change your draping game: You can drape your sarees as per the demands of the occasion. If you're attending a wedding, you can style your saree like a lehenga. A butterfly drape is perfect for a formal occasion, especially if you're wearing a minimally printed saree. A dhoti style is suited for traditional occasions which will see you dance your heart out because this style will give you the ultimate comfort.
Accessorise with a belt: Accessorising a saree with jewellery is one thing and accessorising it with a belt is totally another thing. If you want to maintain the ethnicity of the saree while also introducing a touch of chic, tie a belt over your saree. Corset-style belts are popular lately and you can style your saree with it to create an hourglass figure. A thin, delicate belt with a studded buckle will also create a unique look. The belted-style look should be specifically reserved for parties.
Try out these amazing saree draping styles and stand out from the crowd in your beautiful printed sarees.