Perfect Handbag Choices You can Make Now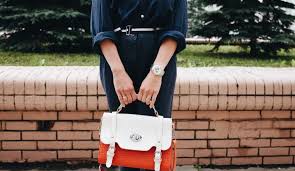 Your handbag will follow you everywhere, it is a fashion accessory that must reflect your personality and match your clothing style. It's a detail that hits home when you are looked at, so don't skimp on this key accessory in your wardrobe. It will highlight your style and your look, so it is obvious that it is in harmony with your morphology and your personality.
It is better to buy a good quality bag, rather than a good deal which you will quickly tire of and which will end up on the shelves of your dressing room. Before making your choice, we advise you to try your sa c as if you were buying a pair of pumps or a piece of clothing.
Whether plain or printed, your bag must match the image you want to render. Here are some tips that should help you choose the type of bag you need and avoid taste errors.
The large tote bag
It is the essential large tote for everyday use, especially for girls who carry a lot of things. The tote can easily be carried in the hand or on the shoulder with the handles. It is found in the commercial tote at all prices, only the material and the details will make the difference.
In order not to go broke in the purchase of a bag, there is an alternative: imitation leather. It looks like it is mistaken for real leather and its price is not very excessive. To choose it well, first determine the use you want to make of it: go to work, go out.
For a bohemian and relaxed look, the large canvas models will be perfect. To go to work, the best is to adopt the all-purpose leather version with a solid color, to go with almost all your wardrobe.
Do not forget an important detail: the handles must be long enough to be able to carry the bag on the shoulder when you put on a thick jacket in winter.
The messenger bag
The messenger bag is often made in a flexible material (suede, leather, crochet or fabric) and of a good capacity, it is the perfect piece for casual looks.
This bag has few seams which gives it this aspect of flexibility. It can be closed with a simple press or a zipper, so it's not necessarily the ideal bag to wear in town, but more on vacation or at the beach.
The handles are not too long and can, in some cases, be tied on the shoulder for a bohemian look. Either way always make sure it is adjustable.
The disadvantage of this model is that there are not many pockets inside, so check before your purchase that it has a zipped pocket so that you can store your keys or your smartphone.
The evening clutch
The evening clutch is a very feminine bag which is just as suitable for formal evenings as for a casual day look. We know for example the classic rectangular pockets with a metallic clasp and having a removable chain.