MAKE AN INITIATIVE AND START USING COTTON MESH PRODUCE BAGS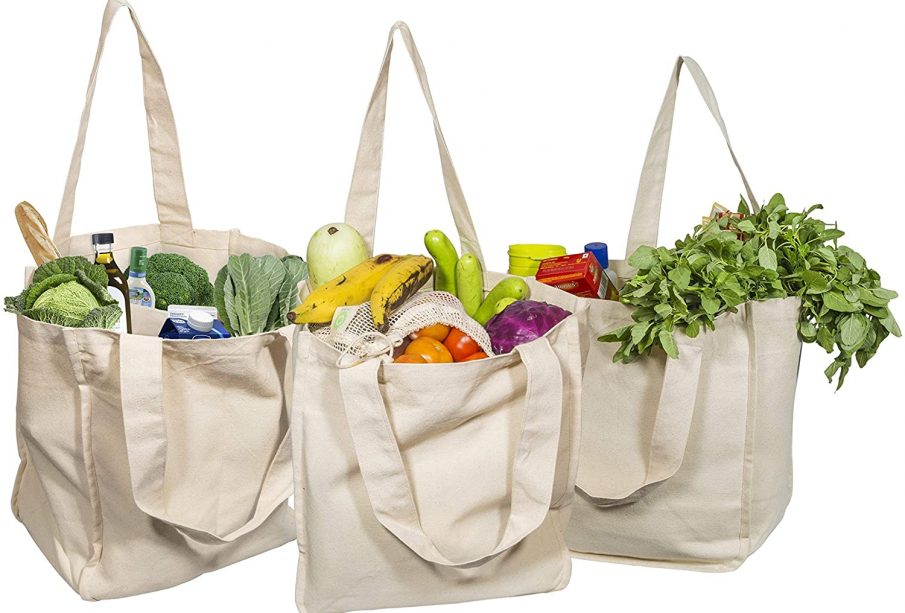 We use plastic 1-2 times and later we throw it. This doesn't biodegrade and harms our planet. Its manufacturing includes the use of toxic metals that contaminate the surroundings and things we carry in them. As they are made up of non-biodegradable properties, if disposed off in the surrounding, it pollutes the soil by releasing toxic chemicals. Paper bags may avoid the pitfalls of plastic bags because they can be recycled and take less time to decompose. Even then paper bags are not the right alternative to plastic bags. They are made from trees, which are important to conserve, or from recycled material, which takes a lot of energy to produce.
Cotton mesh produce bags are considered as perfect for daily shopping. They are made up of 100% natural fabric. Because it is made up of natural material it is washable. They are best to carry wherever you want. If you want to take an eco-friendly move then buying reusable bags is the first step for that. If you haven't switched to these bags yet, you must go through this article and know why you must do it.
Features of Cotton Mesh Produce Bags
Keeps fruits and vegetables fresh
Beautifully designed
Can be customized
Comes with an elegant look
Original and natural material
Best quality
Easy to store in one place
Easy to clean and wash
Comes with double-stitched to ensure durability
Lightweight
Don't give a single rash on your hands
The goal of crafting net-zero produce bags waste products is with the use of reusable produce shopping bags. They are manufactured with the best quality and certified organic cotton. The cotton used in manufacturing undergoes modern techniques and with this you get the best organic cotton mesh produce bags. The bags come with drawstrings to ensure that the products are secure. They can be easily hung in order to reduce space consumption
If your bags get dirty due to leakage then don't worry. These bags require a simple wash and you get the clean bag for another use. You can maintain and preserve the longevity of your bags by simply washing in cold water.
Applications of Cotton Mesh Produce Bags
Since cotton mesh bags are made up of organic cotton therefore they can be used for several purposes without any fear of toxins. You can use these bags in multiple areas in the following ways:
You can use these bags to store food.
Cotton mesh bags are also used for carrying sandwich bags.
These bags are also used for grocery shopping as they are stretchable and help in identifying the different products stored.
Unlike plastic bags, they don't clutter and they are properly organized.
They are multi-purpose bags and you can use these bags as storage bags for different things.
They are skin-friendly and don't give skin rash. So, you can store your children's toys and also allow your children to carry their items in them.\Items stored in mesh bags are easy to locate.
The cotton mesh produce bags are reusable. Therefore they are considered an excellent alternative to single-use plastic bags, paper bags, nylon produce bags.
We want to eat organic food. Carrying organic food in plastic can make it toxic too.
Food is an important part of our daily lives and you must store it in toxin-free materials. A reusable mesh bag is the best place to store food. They are made up of natural materials and don't infuse any toxic chemical into food. Also, cotton mesh bags can keep the greens fresh and crunchy for a longer period.
Plastic bags can cause huge harm to the environment. Whenever we discard them after single-use, it keeps accumulating and continues to choke the earth. Cotton bags come in various designs. They are free from any chemical fertilizers, pesticides, and insecticides. Organic cotton products are a strong choice to store food and this is one of the best hygienic practices.
Reusable bags come in different packs so you can gift them to your loved ones. With this, you will spread awareness and help them to take an eco-friendly step. It is a unique gift option for those who care about the environment but are unable to contribute towards the betterment.
For a healthy planet, we need to cut down the use of plastic and start using reusable cotton mesh vegetable bags. Switching to eco-friendly products is the best way of life that needs to be adopted by all. We need to save our planet and adding these miraculous products into our daily lives can restore the environmental balance. Reusable bags are recyclable and chemical-free, these meshes produce bags that will help us to improve the quality of biodiversity.