How to Choose the Right Shoes for Men?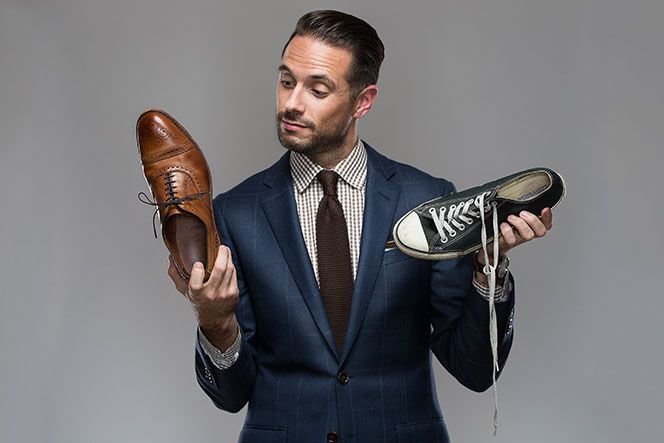 Men are viewed with stereotypical opinions when it comes to their fashion. One may argue that men do not have the vast options that a woman is endowed with when decking oneself up. But, they do not have a limited choice either. If there is one thing a man obsesses about, it is his shoes. Many may find the interest a man takes in finding himself a perfect pair of shoes quite surprising. Men, especially boys in their twenties, are fascinated with shoes, be it sneakers, Keto sandals, loafers, etc. They love experimenting with shoes. Gender stereotypes aside, various types of shoes for men have been introduced to the market, which caters to the different needs of different men.
Shoes are a basic necessity. I feel that more articles address the problems that a woman encounters while choosing a shoe for herself. We are laggards when it comes to addressing the requirement for shoes for men. Thus, in this article, we will deal with the choices one must make while buying shoes for men.
A famous saying goes- "A man is known by his shoes." Have you ever wondered why? Research has shown that the first thing one usually (and subconsciously) notices about a man is the shoe he is wearing. It is because the choice and the condition of shoes a man wears reveals a lot about himself. An avid reader will know that even Sherlock Holmes used to observe the shoes of a man mindfully. If you want to impress people with the shoes you wear or if you are planning to gift a shoe to any male friend or family member, you have come to the right place.
While choosing shoes for men, remember these basics:
Be well versed with the size of the feet and purchase only that shoe that fits your feet perfectly. It is advisable to take the help of a salesperson while measuring the foot size.

Make sure the tip of the toe is not pressed too much, and do not forget to check the quality of the soul.

It is advisable to match your shoes with the type of lower you frequently wear. If you prefer wearing a light coloured lower, you can opt for dark-coloured shoes and vice versa. You can also go for shoes that help you colour coordinate with your regular outfit.

Do not compromise on your comfort. Pick a shoe after correctly judging its fabric and the comfort it gives you when you walk or run in it. Try walking in your shoes at the shop itself for a trial.

Keep your profession in mind and buy a shoe that pertains to its aesthetics.

Choose a product that ensures quality, proper cushioning. While purchasing

shoes for men

, go for the lightweight ones.
What shoes to choose with what outfit:
Sneakers, loafers and sandals go well with

jeans

.

Formal shoes like oxfords complement

traditional outfits

like a suit or trousers well.

Slippers, sandals or keto sandals go well with cargos or half pants.
Conclusion:
I hope this article has fervently addressed the basic requirements of shoes for men, thus helping them to find themselves the perfect pair.