Get Amazing Oil Slick Hair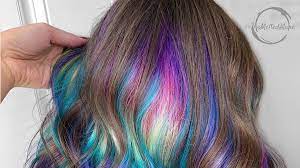 For many people with darker hair, finding the right type of dye color that won't completely bleach their hair is hard. There's a new push towards black and brown haired men and women looking for color that can be applied directly to their hair or with minimal color correction from bleach. The options are out there, but one type of style that has made its mark is oil slick hair.
This type of coloring was developed by Aura Friedman of the Sally Hershberger Salon. She wanted to emulate a style of color that would look similar to oil on water after a rainstorm. Her inspiration came from the streets after a shower, as the colors of the oil from passing cars mixed with the water to create a shimmery, vibrant set of colors. The oil slick look is utilized by combining colors into layers, usually having the darker color on the bottom layer and the lighter color on the top layer. Aura created the look using various layers of purples and greens, one on top of the other, but other stylists have utilized their own versions of the look with other color layers. Oil slick hair makes the person's hair look iridescent in the light, akin to what gasoline looks like mixed with water on a street.
The great thing about oil slick hair is that there is no need to bleach your hair constantly to get the same level of vibrancy from the hair dye. Instead, your stylist can utilize dye that is formulated for dark hair to layer for the oil slick look or just bleach your hair once at the initial dye visit. The upkeep for oil slick hair doesn't require multiple bleaching appointments, as the dye just needs to be relayered to keep the colors vibrant. Also, because the colors just need to be layered on, the dye will last longer in your hair and doesn't require frequent visits to the salon for upkeep.
Oil slick hair is a style that's perfect for those who may not be used to the hair dying process. This will help your stylist to see how well your hair takes the bleach and dye and can help you decide if you'd want to try a more intense color that requires more frequent bleaching. This style is also great for those who want to have their hair dyed, but want to save money. You won't need to make as many trips to the salon to update your color, as with the right dye, the oil slick color can last up to eight weeks. It's a vibrant, stylish look that can save you money in the long run.
You can find just one step by step process to get oil slick hair here. If you're still not sure how to proceed, reach out to your stylist for help and assistance.