Chikankari Kurtis-A must-have ethnic style for winters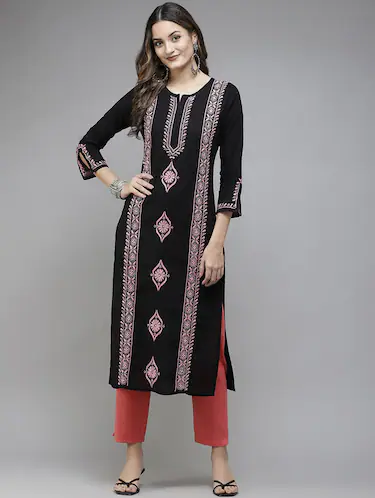 We get very picky when it comes to our fashion choices. Whether we want to pull off an ethnic or casual outfit, it needs to be seamless and on point. Kurta is one such clothing item that never goes out of style. Before you select a kurta, you should check how long it is. A must-have ethnic style for winters is the chikankari kurtis. The allure of this outfit is unmatched.
It consists of tonal thread embroidery. It also derives its beauty from various techniques that look delicate and refined. In the earlier time, Chikan's work was primarily done on cotton. However, the present styles are prevalent in Georgette, Chiffon, Chanderi and more.
This outfit combines many other techniques, such as going to work and Mukaish. This ultimately increases the aesthetic appeal of this outfit. It is a classic piece that can easily be worn during the day with jeans, palazzos and Kurti. chikankari kurtis is the best option for warmer climates and sunny days. This Kurti features a yoke-style embroidery on the front. It consists of smaller motifs on the rest of the panel.
White Chikankari
The Chikankari technique is a very exclusive and stand-alone technique amongst all other embroideries. The modern Chikankari has been mixed and consolidated. However, with the other conventional methods, the core of this outfit stays faithful. The Chikankari motifs are solely based on nature. Hence, the leaves, beautiful flowers, and paisley patterns are very conversant in the embroidery. There are many sorts of Chikankari embroidery. Some of the famous Chikankari embroideries are Jaali work, Banarasi style, and the foremost is Bakhiya, which is called the shadow work. All these styles are distinct from one another yet, and they are unique in their sense.
Shadow work
There is a unique style of chikankari kurtis that involves shadow work. The style consists in using a back stitch and a chain stitch. Thus, the stitch to embroider the white-on-white motifs from the back-side of the translucent fabric creates a shadow effect. It is a modern-day Chikankari-inspired fashion. The embroidery stitches are soul pleasing.
Chikankari kurtis(Suits)
This suit is a subtly designed chikankari kurtis/dress, and Indian Fashion designers have also found a way to adapt this system into their famous collections. They have maintained a perfect blend of subtle and classy. You can also choose a designer Chikankari Anarkali in a jewel-toned colour if you are on the lookout for an off-beat look. Lucknowi Chinkari Kurtis can transform even the most basic outfit into a million-dollar look. It emphasizes the most outstanding features and makes it stand out from the crowd!
Mellow Poise Kurti
It is a tonal white Chikankari Kurti. It looks the best with white or pink embroidery. It is essential for every girl's wardrobe. You can wear a lucknowi style Kurti in summers for maximum impact. This Kurti looks the best on women from all walks of life.
It depends on you if you want to choose subtle lightweight Kurtis or heavily embellished ones! You can also choose a mix and match of both and go for off-beat style!