4 Ways To Wear A Batik Shirt In Singapore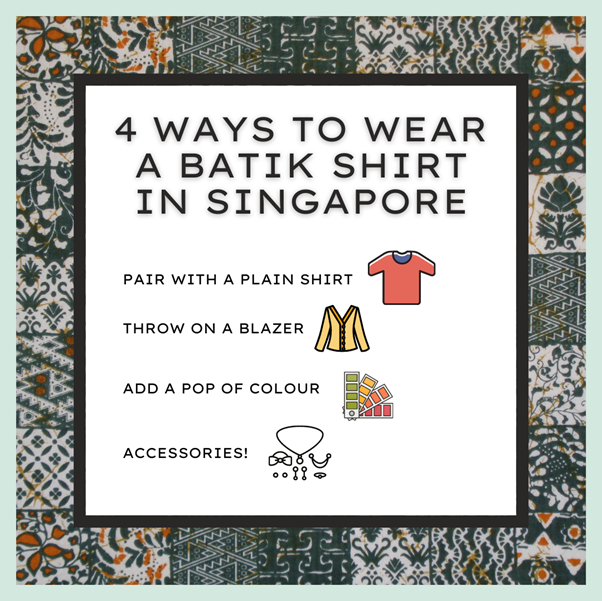 Nowadays, more and more people are rocking batik outfits in the streets of Singapore. People typically see them in traditional celebrations in Southeast Asian countries, but individuals now don them during business meetings, dinner parties, and even Sunday strolls with family and friends. The one-of-a-kind method of waxing and dyeing the batik cloth captivated residents in and out of the state, creating a demand for modern batik shirt, dress, and skirt pieces.
If you are planning to purchase a batik shirt in Singapore, here are a few styling tips you can follow:

1. Pair With A Plain Shirt
Fascinating designs and motifs define every batik shirt, whether for a man or a woman. While donning pattern on pattern works well on some occasions, batik-printed clothing pieces look perfect when paired with a plain shirt.

2. Throw On A Blazer
Throwing on a coat jacket or an office blazer over your batik shirt from Singapore is perfect for formal occasions. You could match your batik-and-jacket top with a pair of well-made slacks or pencil skirt that highlights your figure.

3. Add A Pop Of Colour
One of the most modern ways of styling a batik shirt or dress is by using vibrant clothing pieces to add a pop of colour. If your batik piece has a hint of green, you could put on a pair of green sandals or watch to highlight that hue. You could also use complementary colours to mimic a similar effect.

4. Accessorise!
It may seem impossible to accessorise a heavily printed batik shirt from Singapore, but it is possible! Instead of wearing bulky and loud jewellery, opt for earrings, necklaces, and rings in a neutral colour. Nude pumps and black or brown shoes also work perfectly with the vibrant patterns and hues of the batik, so make sure to invest in those pieces!
Start shopping for a batik shirt today at Anmako Singapore!Visit their website below to browse their collection of striking batik pieces that celebrate culture and fashion.