4 Simple Makeup Tips That Your Bridesmaids Can Follow When Wearing Gold Dresses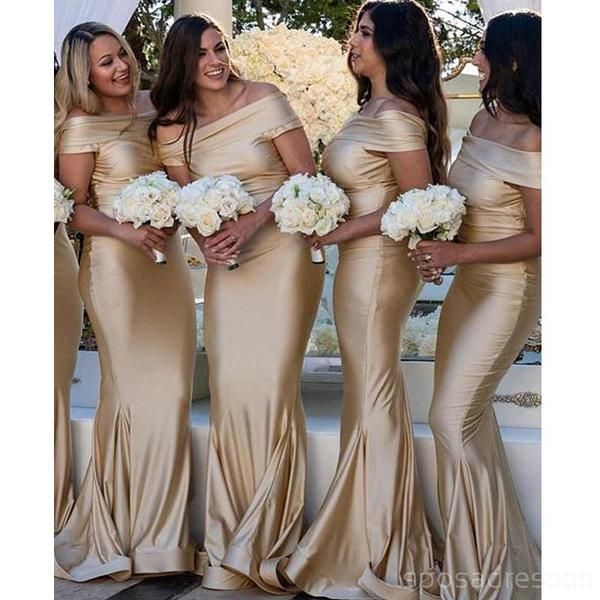 Summary: Are your bridesmaid wearing gold dresses? Then, ask them to follow these tips. 
Gold is a timeless color. It lets one unleash the inner goddess in her. Irrespective of the skin tone of the wearer, it turns her into a stylish diva. If gold is the color theme of your wedding party, then spared this hue among your bridal squad with gold dresses and see the magic. Your bridesmaids would love you for choosing this color as this hue will never go out of style. Along with wearing it on the D-day of your life, they can wear it on other occasions and thank you for such an amazing choice. 
There are several online and offline bridal stores that offer different types of gold bridesmaid dresses. Whether you want to buy mermaid dresses with fishtails in golden hue for your girls or log dresses with sweetheart neckline, or go for mismatched bridesmaid dresses in golden shade, you have ample options to choose for your bridesmaids. 
But only picking the right dresses that can accentuate their best features is not enough, without the right makeup, the look will remain incomplete. Here are some makeup tips that you can ask your girls to follow:
Gold is a hue that goes with any kind of skin tone. But you should ask your girls to be a bit careful about their makeup. For face makeup with golden dresses, advise your girls to achieve smooth skin. Smooth and even-toned skin looks the best no matter what kind of dress one wears. So, hiding flaws should be the initial target. Ask your girls to focus on base makeup – once it is done, half the task is done.  According to the skin type, use a good concealer. Use 2 to 3 shades lighter concealer on the eye circles. Hide them to look awake and younger. Apply foundation and create a smooth canvas for the next makeup steps.
Blush adds a glow to one's face and emphasizes the makeup look. But too much glow can ruin the overall look. So, girls with fair to pale complexion should apply an apricot or peachy blush while girls with darker skin tones can go for a wine blush. They can also use some highlighter on top of the blush to create more emphasis on the cheekbones. Also, a contracting powder can also be used on the hollow of one's cheeks to create a slimmer face look. Ask them to blend it properly with a brush, otherwise, it would look terrible.
Eye makeup is equally important; it can either make or break the whole look. Put a light pale gold on your eyes if you have medium skin complexion. For a girl with fair skin tone, a champagne-colored shadow is good. Then taking pen eyeliner, draw winged eyeliner. A little extended one will look stunning. Then, finish it up with several coats of thickening mascara. Your eye makeup is done for the gold dress.
Red lipstick with a gold dress is a chic combination that never fails to impress and turn heads. Dark skins go with colors like rich red, deep wine or maroon while girls with fair to medium skin can choose colors like pure red, pinkish-red, orange-red, cherry red, etc. Ask them to apply some highlighter on the cheekbones, as well as brow bone for that glowy effect. Using a lip liner for lining the lips before applying lipstick would be great. It will create more dimensions and offers a finished look to one's pout. 
Whether your girls have decided to wear pure gold or rose gold bridesmaid dresses, ask them to follow these make tips. They will look astounding with golden dresses with the right makeup. 
Author bio: Stanley Green is a fashion blogger on different types of dresses, like red, gold and rose gold bridesmaid dresses. In this write-up, he has discussed some makeup tips that your girls can follow when wearing gold bridesmaid dresses.