3 Concealed Carry Tips for Women, Fashion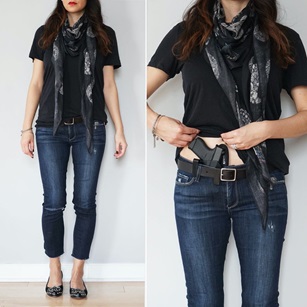 In the U.S., there has been a huge spike in concealed carry permits among women, rising 34% in the last 4 years. Because of this, demand for weapons and concealed carry holsters for women have also increased. This means that proper information regarding the safety needs specific to women are becoming increasingly important. Here are 3 tips that will certainly keep you safe while carrying a concealed weapon.
Buying Your First Gun
Although it may seem intimidating due to the sheer amount of information out there about guns, going to a store and buying a gun shouldn't be. Consider that most folks in the U.S. buying guns with the intent to conceal and carry are women, and take heart in the fact that there are innumerable resources online and in stores to make sure you get the proper experience and training. As much as you deserve the right to protect yourself, you deserve the right to proper information!
Choosing the Right Size and Weight
Regardless of gender, most people will still choose a smaller gun over a larger gun when its intended use is to stay on the body all day long. This means that they are easier to hide and handle well when shooting, not to mention, a smaller gun is almost certainly lighter. Make sure that the gun fits in your hand well and that it is comfortable to shoot at the practice range.
Sacrificing Fashion? Never!
Since women tend to wear more form-fitting clothing, concealing a weapon can be a bit more of a challenge. Luckily, there are tons of options out there to avoid anything uncomfortable. There are holsters for your bra, belly, leg, thigh, or even ankle. If those don't sound like what you are looking for, there are even a number of purses specifically designed to carry handguns.
After a bit of practice and getting more comfortable with your gun, you'll eventually find what works for you.