Where to Sell Watches For Cash?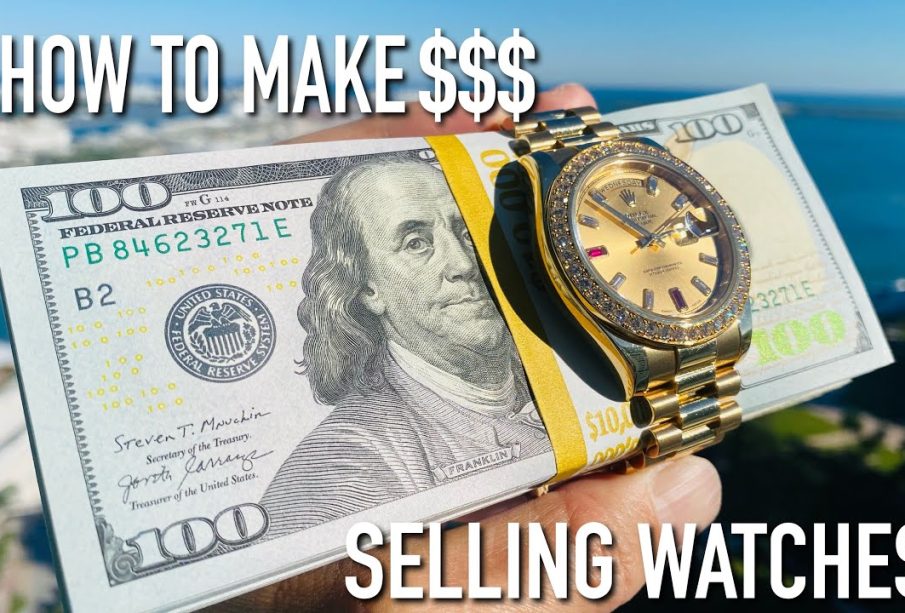 Selling watches for cash has traditionally been a difficult process. But with the advent of new technology, it's now easier than ever to get top dollar for your timepiece.
One of the best places to sell watches is on an online marketplace. These sites have low fees and a large audience.
1. Online Vendors
One of the best places to sell watches for cash is at an online vendor. These companies offer you a quick and easy way to sell your watches and pay you right away in either site credit or via a wire transfer. They also help you authenticate your timepiece so you can get the best value for your watch. Some of these sites include Chrono24, Sell Us Your Jewelry and Worthy.
These websites will typically let you submit a few photographs of your watch and answer some basic questions before giving you a price quote. If you're happy with the quote, you can ship your watch to them and they will assess it for authenticity and damage. Once they're happy with the condition, they'll transfer you your money.
Another option for selling your watch is through a dealer. Unlike online marketplaces, these dealers specialize in buying and selling luxury watches. They'll often have more experience with specific brands and models of watches than other sellers and buyers, so you're more likely to get a fair deal with a dealer.
However, there are a few downsides to selling your watch through a dealer. One is that it can take longer to sell your watch because the dealer will need to find a buyer and negotiate a price. Additionally, dealers tend to only buy higher-end watches and may not be interested in your less expensive pieces.
If you're looking for a quicker way to sell your watches, consider using an online watch buyer such as Worthy or RealReal. These services will evaluate your watch and list it for sale on their website, allowing buyers to make competitive bids. If you accept a purchase offer, you'll be paid through direct deposit or site credit within five business days.
2. Local Vendors
If you're in need of cash quickly, selling your watches to a local vendor is probably your best bet. You can find buyers in a variety of places, including pawn shops, jewelry and watch stores, and even online auction platforms like Worthy. Whether you want to sell luxury watches in NYC or regular timepieces, there's likely a buyer near you who will pay top dollar for your items.
Some of these buyers may be able to give you a quote for your watch over the phone or online, so you can know what to expect before making a sale. However, if you want to sell your watch for the highest possible price, you should consider working with an expert jeweler who can authenticate your watches and ensure they are priced accurately.
One of the most popular ways to sell watches for cash locally is through Facebook Marketplace. This site allows you to easily list your watches and includes features that make it easy for potential buyers to see photos, read descriptions, and ask questions. If you're interested in selling your watches in this manner, be sure to include any accessories that come with them, such as straps, pusher pins, hang tags, cleaning cloths, or setting styluses.
Another option is to sell your watches to a reputable local jewelry store or watch buyer like Tourneau, which buys pre-owned watches from people just like you. To get started, fill out an online form with your watch details and request a quote. If you're happy with the estimate, ship your watch to Tourneau and they'll send you a check. You can also try Luriya, which offers an instant quote and pays cash on the spot.
3. Friends and Family
If you have a watch that you no longer want, it is always an option to sell it for cash. However, where you choose to sell your watch will depend on its value and whether you are willing to take a lower sale price or pay for a professional appraisal to authenticate it.
The first place that most people think of when they are looking to sell watches is online marketplaces such as eBay and Amazon. While these are great options, they do have their drawbacks. For one, they can be time consuming since you have to wait for someone to come along and buy your watch. In addition, there are also fees that need to be paid to the marketplaces which can take a chunk out of your earnings.
Another option is to sell your watch at a local auction house. This is a good option for high-end watches as it gives you a chance to get a fair market value for your watch. However, it is important to remember that you will likely not be able to sell your watch for the maximum amount that it is worth due to the high listing fees.
If you are unable to find a buyer in the above locations, you can always try selling your watch through a pre-owned watch platform such as Analog:Shift, Crown & Caliber or WatchBox. These platforms usually charge a small commission, but they can help you sell your watch faster and at a more profitable rate.
Lastly, you can also try to sell your watch through a specialty buyer such as Luriya. This New York-based company specializes in gold, silver and watches and can offer you a fair market price for your watch. To sell your watch, simply submit a few pictures of your watch and provide the brand and model number to receive a quote within 24 hours.
4. Internet Vendors
There are several online watch buyers that offer a quick and easy process to get top dollar for your timepiece. They will give you a price based on your watch's condition, style and other factors like brand value and vintage value. It's always a good idea to do your research and compare prices for similar watches before selling yours to get an idea of how much it is worth. Also, be sure to include any additional items that may add to your watch's value, such as the original box, manual, warranty card and any accessories you might have kept with it.
One of the most popular online watch buyers is Chrono24. They have a large community of watch lovers and focus on keeping their sellers happy and secure. They charge a small fee to sell your watch and pay in cash once the transaction has been completed. Another great option is to use a marketplace such as eBay or Facebook marketplace. These options offer more flexibility when selling your watch and you can find a buyer from all over the world. Finally, you could also try selling your watch to a dealer who specializes in pre-owned luxury timepieces. However, dealers are less likely to pay top-dollar and usually only buy luxury watches.
A final alternative to these options is a pawn shop, but they tend to pay a low price and don't provide excellent value for your watch. Another option is to sell your watch through an online jewelry seller such as Luriya, which will appraise your piece and pay you in cash once it has been sold. This method is fast and convenient, but you will not be able to receive the maximum price for your watch.
5. Pawn Shops
If you're in a hurry, your best option is to sell your watch for cash at a local pawn shop. They're used to dealing with high-end watches and will be able to offer you the most money for your timepiece.
However, it's important to remember that pawn shops are not charities. They are businesses and need to pay rent, utilities, and employees. Because of this, they are only going to pay you what they think your watch is worth. If they believe it's worth less than $500, they won't buy it.
Another drawback to selling your watch at a pawn shop is that it's a one-time deal. They won't give you your watch back once you've paid off the loan, so it's important to only use this option if you absolutely need money right away.
The good news is that there are a number of ways to sell your watch for cash in the local area. Many jewelry and watch stores will buy watches, but you can also try local selling sites like Facebook Marketplace. Just make sure to research the value of your watch before taking it to any seller and be prepared to negotiate if you feel the offer isn't fair.
If you're a collector, then you might prefer to sell your watch directly to a dealer or watch shop. They can help you get the most money for your watch and will be able to appraise it accurately. Just be sure to check that they have experience and are reputable. They shouldn't have any problem giving you a written quote and will not require you to commit to a sale right away.