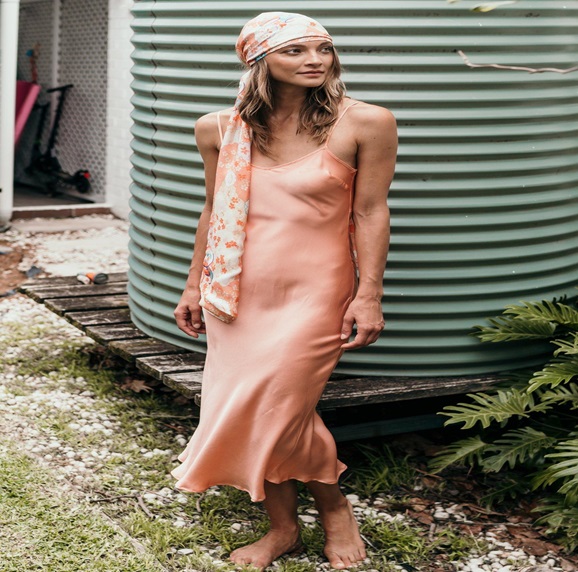 hin, silky soft slip dress feels like air, making it the absolute perfect style for wearing all summer long. Flit around the city, beach or office in the dress of your dreams by day, and style it up to serve some serious looks after dark. When it comes to versatile styling, there's very little that the humble, gorgeously simple slip dress can't do!
Create contrasts
The effortless elegance of the silk slip is the ideal starting point for all manner of creative outfit contrasts.
Introduce some fashion forward tailoring into your dress rotation and watch your slip totally transform! Layer an oversized boyfriend cut blazer over your shoulder, roll on some tube socks and lace up your favourite pair of brogues or oxfords. Swap the shoes and socks for heeled boots, layer on a chunky knit and you've got yourself a lovely winter evening look!
Maybe you feel like playing with the rich silky side of your slip? Highlight the shimmery shine of the fabric by contrasting it with a bit of rough and tough leather! A worn vintage leather biker jacket and a pair of combat boots or platform leather sandals will do the trick perfectly. Make it work for warmer weather by swapping the jacket out for a chunky waist belt and statement silver earrings.
Formal affair femininity
Of course, you're going to want to treat that slip to a night out on the town every now and again!
Create some eye-catching looks by using your slip as the foundation for a colour clashing outfit. Contrast a black slip with chunky cream accessories such as leather pumps, a matching clutch bag and solid resin statement jewellery for a simple yet sophisticated cocktail look.
Play with the femininity of your outfit by really leaning into the power of your accessories! Slide in a barrette for a flirty girly look or wrap a silk head wrap through your hair for a bohemian chic vibe that stands out amongst the crowd.
Maybe you want to wear your dress to a winter time event? Challenge accepted! Layer knee high boots and tights underneath for some sneaky warmth and carry a cashmere wrap with you for silky soft and insulating layers that won't compromise the graceful glamour of your gown. Press in some Hollywood curls, add a bold red lip and string a pearl necklace around your next to channel the silver screen sirens of yesteryear!
Let your layers do the talking
One of the best things about a simple slip is that it's so easy to play around with when you're in the mood for a little light layering! Style a crisp white crew neck tee underneath your dress for a nod to 90s grunge, finish with chunky boots and layered silver jewellery to take teen angst and make it fashion. If you're feeling something fresher, keep the tee and add a white cotton headband, white sneakers and skinny cat eye sunnies. Wear to work, coffee, the movies, wherever you feel!
Maybe you need to practice some ladylike layering not because you feel like it, but because the weather kind of demands it. If that's the case, reach for a thermal long sleeved tee or knitted wool turtleneck and pop it on underneath your skip. Add insulating tights, knee high boots, a chunky knit scarf and your favourite winter coat. A snug yet chic look, with a summer staple at the centre – who knew!
And that's that! Whether you're slipping into that slip for everyday errands or heading to the event of the year, the right style is going to be you every best friend all year round. Browse beautiful quality designer women's dresses to nab yourself a chic, unique cut that you will wear and treasure for years and years to come! Happy styling!