Men's ethnic outfit ideas to prepare for your Wedding Day!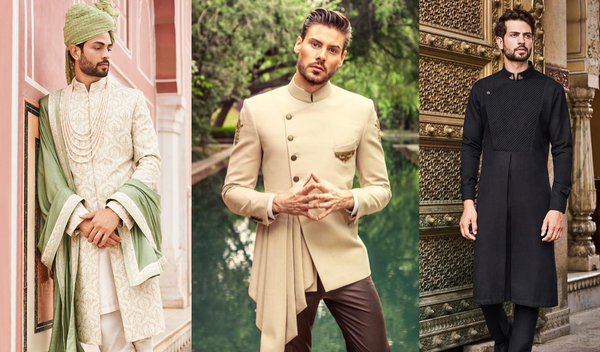 The Wedding Day is one of the biggest days of our lives and if you are an Indian, it might be the biggest day. And for such an occasion, it is crucial not only to choose an outfit that makes you stand out but also to opt for one that suits you the best. However, with the plethora of choices available in the market, it might become overwhelming for you as a groom to choose the right match. So, it is time you get familiar with the trending wedding dress for men in order to find out what you really wish to wear. To help you with this, we have discussed some of the trendiest outfits for grooms. So, without waiting any further, let us get started!
#1: Indo-western look with the classy black and white
Pairing black with white is not only something that does not go out of fashion but is also what gives out a powerful and masculine vibe when it comes to wedding dress for men. So if you wish to opt for this look, you can consider styling a pair of straight white trousers or pants with a dark, straight sherwani jacket. If you do not necessarily wish to go for black colour, you can also take wine red colour into consideration. This can further be styled with white-coloured necklace and a white turban.
#2: Jodhpuri Suit
The Jodhpuri Suit comprises churidar pants, bandhgala jacket, and a kurta and is the finest of all wedding dress for men. So if you are planning to look sophisticated, a Jodhpuri Suit is the answer to your query.
#3: Sherwani
The evergreen wedding dress for men, sherwani is what is worn by most men on their wedding day. It comprises a kurta that has high collars and is heavily embellished and is paired with a dupatta and a churidar bottom. Not only does this outfit look elegant but it also has a sense of royalty.
If you wish to wear a sherwani on your day, you will get to customise it, including colour combinations, fabric, and even embroideries. In fact, you can also choose a silk dupatta that has a bit of embroidery on it.
#4: Pastels with White
If you are fond of pastel shades, this might be the best idea for your wedding outfit. As a matter of fact, if your wedding is to take place in the daytime, these shades will look even better. So if you wish to style pastels with white, you can opt for an angrakha sherwani that is white or off-white in colour. This can then be styled with a pastel shade stole and a turban of the same colour. When it comes to wedding dress for men, pink is the most commonly worn pastel colour.
#5: Beige and Maroon Sherwani
If you wish to add contrast to your outfit like the first idea but in a different manner, then you can go for a beige and maroon colour combination. Go for a rich maroon stole and headgear and a beige-coloured sherwani.