List of Authentic Maharashtrian Jewelry for an Indian bride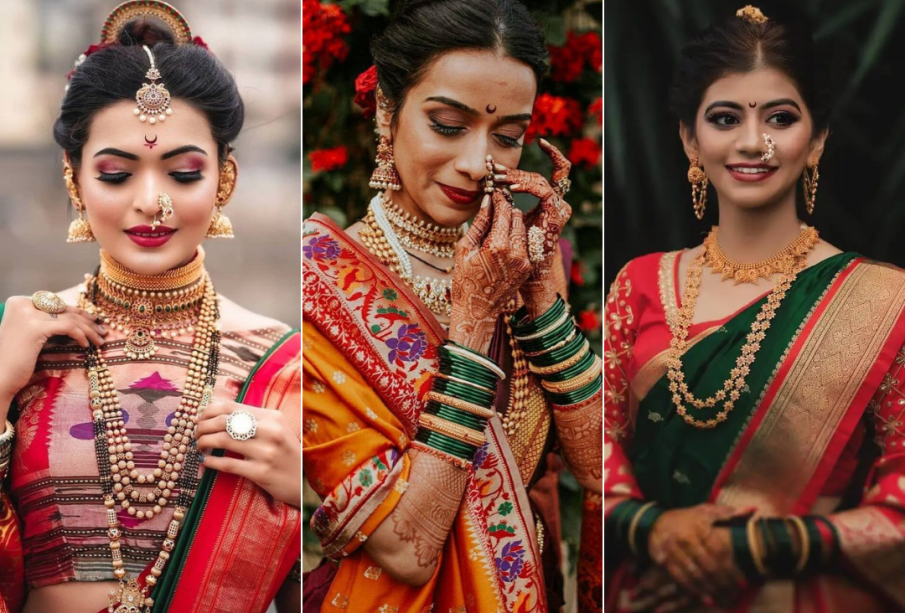 Maharashtra has a unique dynamic joyful tradition recognized for its strong heroes, rich historiography, and beautiful landscapes. A piece of Maharashtrian jewelry is an ornament that a Maharashtrian woman wears on her bridal day or during special events. Those designs of ancient jewelry types are popular among Marathis.
From its characteristic colors and styles to its fine details, it never stops mesmerizing us. The Maharashtrian girl's jewelry embodies the spirit of her tradition, from exquisite nose ornaments to gem-studded wristbands. The Paithani sarees reflect the state's passion for color and artisanship. Likewise, the other states in India, Maharashtra has a long-standing deep connection with metal, and Marathi newlyweds are carrying magnificent jewels.
Therefore, if you are a Maharashtrian girl hoping to rock a classical way on your wedding day, here's a down below Maharashtrian jewelry checklist to assist you in making the appropriate decision.
1. A Marathi Nath
The Marathi nath is one of the most distinctive jewelry items. It is a nose ornament of pin types that is historically made of gold, pearls, and beads and worn by Maharashtrian women during weddings, festive events, religious rituals, and family events. A variety of different nose pins are present in the business. A Maharashtrian Nath is available in many styles and patterns. Banunath, Peshwai nath, Pachu nath, and others are well-known.
2. Thushi, originated from Kolhapur
A Maharashtrian lady wears it at her ceremony. It is a choker in necklace form made of pure gold jewels and has a customizable dori at its backside that is adjustable owing to a delicate thread that may vary to the wearer's preference. That allows you to wear this slack or tight, depending on how you choose to style it. Every bead is embellished with exquisite forms and motifs and contains jowar shaped gold pattern, which represents that the bride's new home would be given food forever.
3. An Armband- Vaaki
Maharashtrian jewelry possesses a distinct charm. A Red Vaaki is the most demanding jewelry style for every Maharashtrian wedding. It is a wristband, also known as a baseband, made of 23-carat gold thread, and is embellished with stones and decorative elements. It is only donned on rare events and is loved by several girls on their wedding day. It can wear on both arms or only one.
4. The Maharashtrian green Chooda
The Maharashtrian chooda is green in color, unlike punjabi's red chooda. At their weddings, Maharashtrian ladies wear green chuda, which are odd in the number of green glass bangles. These bangles can match with thick gold bangles for a celebratory effect on this day. The green color in chooda represents fertility and wealth and is carried on both forearms.
Conclusion
Maharashtra is famous for the artistic labor that puts towards the formation of each ethnic jewelry design. Here, in this article, we just covered a few of them not from head to toe! Some other types and styles in the Maharashtrian jewelry of bridal section include jodvi, pinjan, kada, Tode, bor maal, dholki, Putli Haar, Mohan mala, rani haar, Surya haar, and chandan haar.