Indian Wedding Dresses that Every Modern Bride Should Know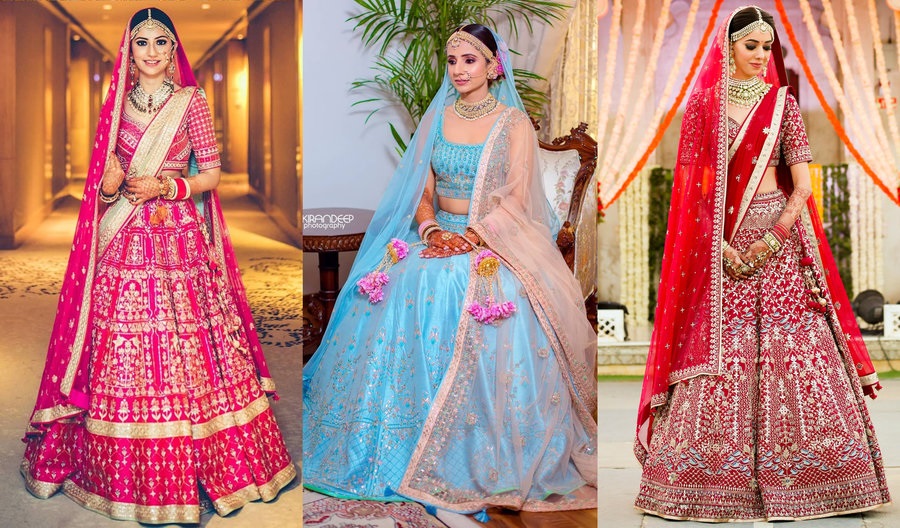 As a modern bride, you might want to go a step ahead with your trousseau. And looking for a dress, which is both ethnic and modern, can be time-consuming. Again, the wedding simply marks the beginning of your new life. The first year of your marriage is likely to be packed with way too many family functions, dinner invites, cocktail parties, and festivals. Your wardrobe needs to be a comprehensive one so that you have a lot of fitting options to wear on any given occasion. Here's help on how you can dress to impress.
Choosing the Sarees
When it comes to choosing sarees, a smart modern bride tends to be keen to pick the ones that they can wear time and again. Kanjeevaram sarees and the Banarasi sarees are still the first choices among the different Indian wedding dresses. The high-quality Banarasi sarees have withstood the test of time. If you are choosing one of them in your wedding, then you might go beyond the conventional red or blue ones, and opt for a pastel-toned saree. Later, you can pair it with an elbow-length silver or golden (choose as per the weave) zari blouse and be a style diva. Similarly, wearing an elegant Kanjeevaram saree with Maggam work blouses is a great choice. You can round off your customized look by choosing a 'gajra' with flowers other than jasmine.
Again, if you have a number of occasions to attend in this super-hot summer days, then you would surely want to give the heavy fabrics a miss, Even then, you do have a plentiful of choice to choose from. Try handwoven sarees like Jamdani, Tussar Silk or Tant for family get-together. While joining a pre-wedding function in summer, you can reserve a lemony-yellow Bandhej that comes with mirror work, or gota Patti designs. You can also choose a light, yet glossy textured Chanderi saree. Being the new bride in the family, it would not look over-the-top with sarees having extensive zari borders. However, remember to pair the Bandhej, as well as the Chanderi with a tie-up choli. Last, but never the least, very few varieties can bear a Kerala Kasavu saree when you want to do a simple, yet sophisticated look.
The Urban Lehengas
These new-age lehengas have undergone a lot of change this wedding season. The variations comprehend but do not remain confined to striking contrasts, colour blocks, as well as asymmetric skirts, crop tops, and many more. There is a trick that you can try with your urban lehenga. Choose identical fabrics to tailor your crop top and high waist skirt. This will make your waist appear smaller. Now just drape a contrasting coloured dupatta and see how magical you look.
The Classic Bridal Lehenga
The traditional bridal lehengas are ever-graceful and have everything to make the bride dazzle. There was a time when the lehengas would be heavily embellished, made from heavy fabrics, and be particularly uncomfortable for the bride. However, the new age bridal lehengas continue to be head-turners. They are available in a number of fabric options, designs, and colours. Also, decide whether you would like to have the sequins, embroidery, gotta work or mirror works on it. There is no hard and fast rule to decide on a type that would complement your body type. However, make sure that your lehenga is well-tailored, easy on the eyes, effortless to carry, and can be worn easily. Your wedding lehenga can be versatile enough to wear in the sangeetam ring ceremonies or other wedding ceremonies in your family that follows your marriage.
The Gowns in the Town
Wedding gowns might not be anything new in Christian weddings. However, with the ethnic Indian gowns hitting in the bridal shops, they have become the must-buys and must-haves among the modern Indian wedding dresses. They have the right mix and match of Indian and Western elements. Essentially an extension of the conventional Anarkali suit, the gowns wonderfully camouflage the problem areas of a relatively plump bride. However, the floor-length gowns that leave an Indian flavour in the mouth go well with just about any body type.
The A-Typical Salwar Suits for Wedding
The suit-cum-lehengas have earned a pan-Indian appeal of late. Its uniqueness lies in the fact that these suits wonderfully mix two individually wonderful wedding dresses. It neither looks like a traditional bridal salwar suit nor does it appear to be a typical wedding lehenga. Its flowy, long cuts might remind you of the bridal Anarkali suits to some extent. If you are picking this for your wedding, then it is a good idea to stick to the conventional wedding colours. However, if you are choosing this suit-lehengas for your reception, it would be a great idea to pick something more vibrant in colour.