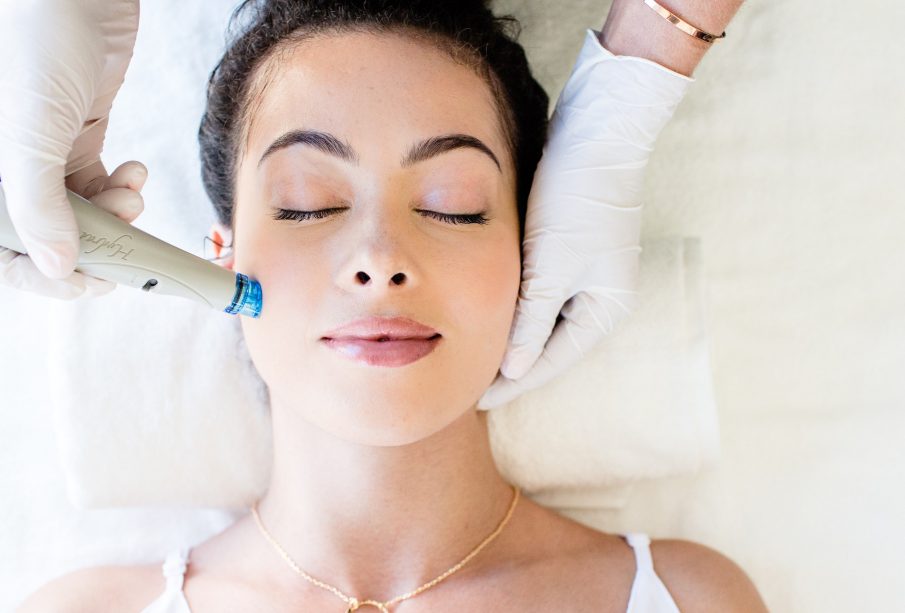 We all want that perfect complexion with beautiful and clear skin. Many of us tried different types of facial treatments and sometimes they're not enough. While you may have your regular cycle of face products, a HydraFacial treatment may be the extra boost you need to get the vibrant skin we all aim for. This specific facial is all the rage nowadays with its quick, easy, non-invasive procedure. Let's dive into what a HydraFacial treatment is and why people are loving it.
What is HydraFacial Treatment?
In essence, HydraFacial is a combination of a peel, microdermabrasion, and hydrating mask. Performed by licensed cosmetic specialists using a medical-grade device, HydraFacial treatment unclogs your pores while also exfoliates and hydrates your skin. It's a multi-step process that involves cleansing, exfoliating, restoring the essential elements to your skin. It's also customizable to suit all specific skin types.
How Treatment Works
A typical HydraFacial treatment begins with an exfoliation using a water-based solution that is pressurized against the skin to break away dead skin cells on the surface layer. The patented Vortex-Fusion device, with its spiral suction tip, is designed to provide a gentle extraction by delicately brushing off dead skin cells and surface debris. This device also delivers a chemical peel solution that contains salicylic acid as a second layer of exfoliation for your face. It is then followed by the infusion of customized serums containing a combination of peptides, antioxidants, and hyaluronic acid that are tailored for your specific skin type. All the steps are conducted with the same pressurized delivery of the water-based solution, which allows the skin to feel plump and radiant following the treatment and much more hydrating than a traditional microdermabrasion facial.
HydraFacial Treatment Add-Ons
On top of the basic treatment, you can apply more add-ons for more targeting results. These include:
Containing skin-conditioning peptides, such as acetyl octapeptide-3 and palmitoyl dipeptide-5, this product hydrates, plumps, and soothes the skin while also reducing fine lines wrinkles, resulting in smoother and glowing skin.
Derived naturally, this is a human growth hormone factor that helps regulate cell growth and maintain the structure and function of healthy skin. A more intense treatment, it deals with any ailments related to rough skin textures and diminished fine lines and wrinkles.
Made up of alpha-arbutin and vitamin C, this product is uniquely formulated to work as a spot corrector, targeting dark spots on your skin such as sun-damaged areas. It delivers essential ingredients deep into the layers of the skin to create an even and bright complexion.
Benefits of HydraFacial
A HydraFacial treatment provides you with many benefits, such as the following:
Treatment is customizable. HydraFacial addresses all specific skin types to meet a patient's unique skin needs. It can be customized to address skin issues such as acne, hyperpigmentation, and sun damage.
It works on sensitive skin. There is no manual squeezing of the skin or rough abrasion and avoids using pore-softening steam, causing no redness whatsoever on the skin. Providing a deep cleansing with little to no inflammation, HydraFacial can be used to treat sensitive skin.
HydraFacial is painless. The Vortex-Fusion device used in the HydraFacial does not scrape, pull, or pinch the skin. As opposed to other abrasive facial treatments that use needles that may leave burning or unpleasant reactions, HydraFacial uses pumping water to gently exfoliate your skin.
It requires no downtime. A HydroFacial is a quick treatment that can give you clearer, hydrated, and glowing skin in as little as 30 minutes. There is no recovery time proceeding the treatment, so you can continue your daily routine feeling renewed and vibrant.
For anyone wanting to improve the appearance of their skin and to get rid of specific skin ailments such as fine lines and wrinkles, HydraFacial treatment is an effective solution. It does wonders in giving you vibrant, elastic, firm, even-toned skin while also correcting brown spots and ridding of congested skin and large pores. As a safe and reliable procedure, a HydraFacial treatment will leave you feeling like your skin is new in no time right after your appointment.