How to Wear a variety of Crop Tops Stylishly with Jeans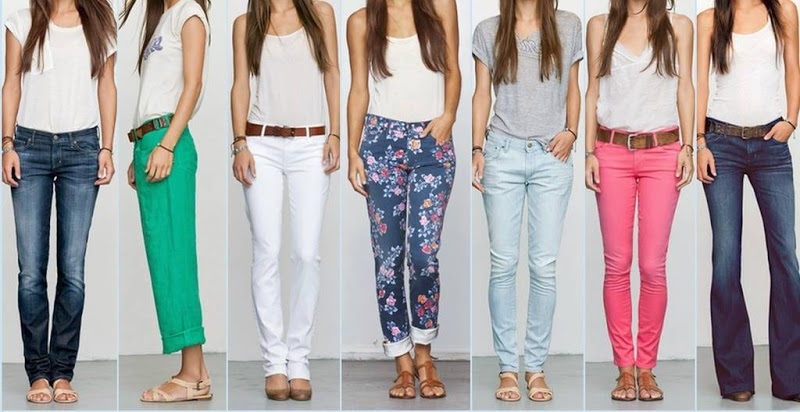 One of the all-time fashion hit is to wear a variety crop tops with jeans. It has become a style statement for all ladies throughout the world, particularly the modern and the next-gen gals. One can wear any types of jeans with a crop top and look attractive, beautiful as well as sensual. The combination of the two outfits can enhance the looks of any women and bring out the oomph in them. The tops that are cropped, and high waist jeans of a variety of designs, including denim shorts, have become one of the most favorite casual dresses to enjoy life in a relaxed manner or going to rock on the dance floor or the poolside parties. It is time to judiciously make a combination and have that deadly look that all women love to carry in casual hours.
Combine accordingly
As you plan to wear one of the most sought after casual dresses selecting jeans and a crop top, make sure that you pick up and wear the right design that will go with your body contour. There are a variety of designs of these types of tops, as well as denim pants. These are perfect for all kinds of body shapes to wear and look attractive. Pay heed that all styles and designs do not suit everyone, and as a woman, you should select the right designs to look beautiful. It is time to make the mirror jealous, looking at your style statement.
Points to Ponder
On can choose high waist jeans and a cropped camisole top to look smart. However, make sure that it goes with your body shape. If you are a bit healthy, it is best to avoid the tight tops so that the unwanted bulges do not show up. It is best to wear a loose-fitting top if you are a bit fat.
Again, if you are excessively fat in the bottom part and particularly the hip region, then a pair of boyfriend-style jeans would be perfect with a ruffled shoulder top to look beautiful. If the belly fat is too much, avoid wearing a top that can show your tummy area or wear a covered shrug or jacket over your top. Make sure that the length of the jacket is a bit long to hide your vital areas.
Again wear skinny jeans if you have a petite body built. Wear a tight top that is cropped and have fewer frills. Avoid wearing tops with flared shoulders. Wearing skinny jeans that is a bit dark in color and a vertical-stripe top cropped at the bottom will make you look taller.
Wearing the Perfect crop top to Look More Stylish
Let us discuss some of the designs of jeans and tops that you can mix and match and look exceptionally elegant and adorably beautiful.
The youngster style – If you are young and a bubbling gal going to school or college, it is time to dress like a professional wearing baggy jeans and a smart and straightforward looking crop top and a casual or formal blazer above it. You can look stunning and showcase your confidence wearing the combinations.
The Daring Style – While at the beach, or on vacation, try the high-waist jeans shorts and a body-hugging crop tee to look passionate, bold, and beautiful. It is time to spend your favorite casual time wearing them and go for shopping or enjoying the sun. Wear the tops that are cute and bright colorful so that an aura always moves with you.
Going for the Ripped Style – If you are tall, and have a trimmed body with perfect vital statistics, a crop top and a ripped jeans is for you. Wear a laced top with full sleeves and having proper liners to protect your privacy that you do not want to showcase. Some areas revealed, and some are translucently covered wearing the top will give you that naughty yet smart look.
The Cool Style – If you want to look relaxed, casual yet admirable, wear a pair of lightly washed blue denim and crop top with off-shoulder design with flairs to give you a cool busty look.
Wearing a white or any other light-colored crop top to reveal the area between your waist and the bust line with frills and flairs at places can enhance your beauty to a much extent.
All denim design – As you want to make a style statement, wear a pair of light-colored blue jeans and a denim top with zippers at front. The top should be sleeveless and cropped. The dress will suit the ladies wanting to look different from others. If you're going to be a bit daring, then go for the bikini styled crop tops with off-shoulder design. You will be admired by many at any party, social gathering, or while you are on vacation. Wearing sunglasses and carrying the proper accessories like a matching sling bag will add to your glam. Go for the neutral off-shoulder tops to and enjoy your femininity.
Flared jeans and high-neck tops– Wear the fared or wide-legged jeans and a revealing crop top. Highlight your cleavages without being over smart and look cool. It is best to keep your hair loose with the locks and the curls falling on both sides of your front and resting on your bosom.
It is time to flaunt your beauty wearing the tops that are cropped with a pair of jeans and carrying the perfect accessories. One should always wear according to the taste, occasion, time, place, and season. While light and floral colors in spring and summer will make your appearance refreshing and soothing, a full shoulder top cropped at the bottom, and high waist jeans in winter will give you more comfort. There are multiple ways to look stylish apart from the above suggestions, and one should always continue to bring out a change in the looks. Make your own style statement and look fantastic.