Get Your Pride Day-Ready: Beauty Tips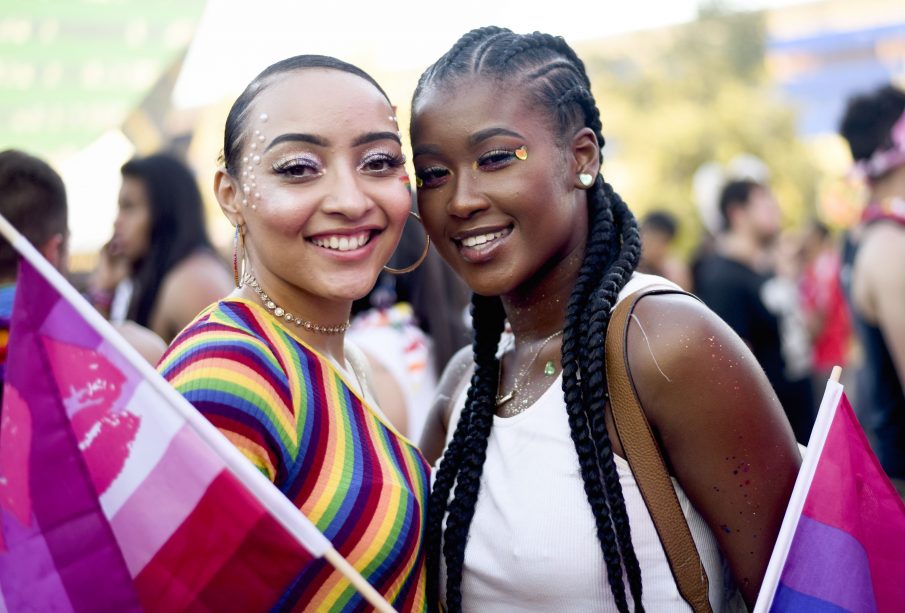 It's Pride Day! And month! You know what that means: it's time to break out your best makeup and get ready for all the parades, parties, and celebrations.
But before you head out into the world with your bright colors on full display, make sure you're prepared by following these beauty tips.
Makeup
Makeup is both an intoxicating way to experiment with your look and a statement maker. This month, in honor of Pride, it's likely that you'll see more prismatic looks than usual – they're flashy but also indicate the sheer diversity found within our community.
Use a rainbow of colors grouped together on your eyelid for the perfect Pride makeup.
It's helpful to use a primer that will help your makeup stay on longer and avoid creasing.
Apply the colors with an angled brush or sponge for a more gradient look. Then, using another color from the other end of the rainbow spectrum (reds and purples), blend them together into one corner of your eyelid for a creative effect.
Incorporate pink, purple, and blue shadows into your collection for extra pop.
Apply the purple into your crease, and use a pink or blue in the outer corner of your eye for dimension.
Finish off with white mascara to complete this look!
Add gold shimmer to lips or cheeks to really shine at this event!
Shine bright like a diamond by adding some highlighter. You can also try applying glitter on the eyelids and using your inner corners as highlight points for extra glamour. Channel your inner moon goddess with stars all around, sparkles galore! And finally, get your skin on fleek with your favorite highlighter.
Brighten up this special day by adding some sparkles and shimmer to your beauty routine!
Hair
What better way to celebrate Pride than with a rainbow hair color?
The head-turning Pride Hair is a show of solidarity and support for diversity, just like the gay pride flag.
If you want a more subtle Pride look, try adding some rainbow hair dye or temporary tattoos to the roots of your natural color.
You can also get creative with clips and pins for different looks!
According to a survey conducted by AllThingsHair, 75.90% of the participants said that accessories are what make hairstyles unique and interesting.
You can use a variety of rainbow hair accessories to celebrate Pride Day- the lighter and brighter, the better!
Nails
A monthly reminder of how much we have to be proud of, Pride is the perfect time for a manicure makeover.
There are all kinds of ways you can express yourself or show support with an updated nail design – endless possibilities!
Use symbols like the heart or a peace sign to represent love and unity.
Add glitter for some sparkle!
Rainbow gradients in all the colors of a rainbow flag.
Stripes down each finger that alternate between red and pink to represent equality on both sides.
No matter what design you choose, we hope it brings joy to your life as well as to others around you during these colorful days of celebration. So let's start painting!
Clothing
What are you going to wear for Pride Day? With all the colors, styles, and various themes out there it can be difficult to choose what clothes would work best.
The thrill of wearing something new mixed with feelings of excitement about attending a cultural event is what makes picking an outfit so hard!
You could try matching your ensemble to one or more parts of Gay Pride's six-color rainbow flag. Or maybe go vintage by dressing up in bright 70's disco attire. The choice is entirely yours.
What are some other ways to celebrate Pride Day in style?
Here's a list of clothing items and accessories which would be great to wear on this day:
Pride flag backpack
Rainbow pride socks
Pride day bracelet
Feather earrings
Leopard print shoes
Rainbow pride hat
Pride Tattoos
With Pride Month around the corner, it's never too early to start thinking about ways you can show your pride.
One way is by getting a tattoo of one!
While a typically rainbow flag works just fine, there are many creative ideas for tattoos that will really stand out during this time. For instance, consider having multicolored puzzle pieces as part of your ink or opting for rainbow semicolons on an arm sleeve.
No matter what you choose to do, your tattoo will show off just how much pride you have for the LGBTQ+ community.
If permanent tattoos aren't really your thing but still want a way to join in on the fun, consider getting some temporary rainbow tattoos.
Keep in mind that these don't last forever, but they will at least give you a little something to show off until the real thing is ready.
We know it's tough to get ready for Pride Day. You want your outfit, hair, and makeup all on point – but that doesn't mean you have to spend hours in the bathroom!
When you're ready to take the plunge and show off your true colors, we hope these beauty tips will help.
Now go out there and celebrate with style!