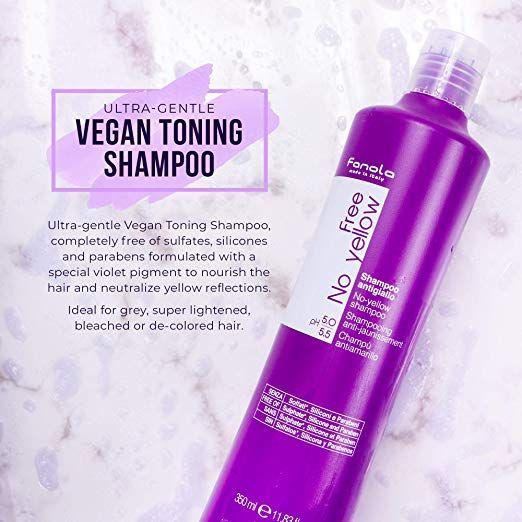 Blonde hair is the bomb!  While it lasts, that is.  Natural or coloured, blonde hair is prone to getting that brassy, yellow shine that can take your hair from a 10 to a 0 in a matter of weeks (if you're lucky to get that long).  If you love your blonde locks but are tired of dealing with that yellowing, you'll want to take a look at the idea of adding a no yellow shampoo to your beauty routine!  Deceptively simple to work into your care routine and effective at preventing those yellow tones, it can be a lifesaver for those who don't want to go brunette or make other drastic changes.  For the best of the best, rely on no other than Fanola No Yellow Shampoo.
What is Fanola No Yellow Shampoo?
Aptly named, this new and exciting product is one that hits the problem right on by designing a shampoo that is designed to prevent those brassy tones from entering your hair by fighting it with carefully designed purple toning.  Literally purple when you work it into your hair, this uses its hued power to stop those yellow, orange or red tones from permeating into your locks, even in those hard-to-reach places.
This is designed to replace yellow opportunity with purple beauty that will leave your hair looking salon-fresh for weeks and months, saving you precious money and a whole lot of stress when enjoying your beautiful head of hair.
Benefits of trusting Fanola's No Yellow Shampoo
It's more pigmented than anything else you can find:

There are other no yellow products out there, but you are going to find that Fanola's one is the best.  This is because it really commits to the purple.  It's so strong, in fact, that it can stain your hands and even your shower curtain if you're not careful!

It cleanses and moisturizes as it works:

This isn't just a toner product.  IT is going to properly clean and moisturize your hair, too, making it truly feel like you just walked out of the salon, even though you're still in your own bathroom at home, running your fingers through your beautiful locks!

It works with all sorts of blonde hair:

Whether you've got natural blonde hair, brown hair with highlights, platinum or ombre hair, or even pastel hair, Fanola doesn't judge.  It will work its magic on any and all kinds of yellowing-prone hair to help it all look good.  Plus, it won't do it at the expense of your other darker hair.

You don't have to use it every day:

This is designed to be used maybe once a week or whenever you feel that yellowness is coming out in your hair.  It's nice to know that you can practice proper hair care so easily!
You spend a lot of time and money getting your blonde hair looking its best at the salon, so it only makes sense that you'll want to protect our investment for as long as possible and maybe even enjoy your hair a little more, right?