A Guide to Makeup Brushes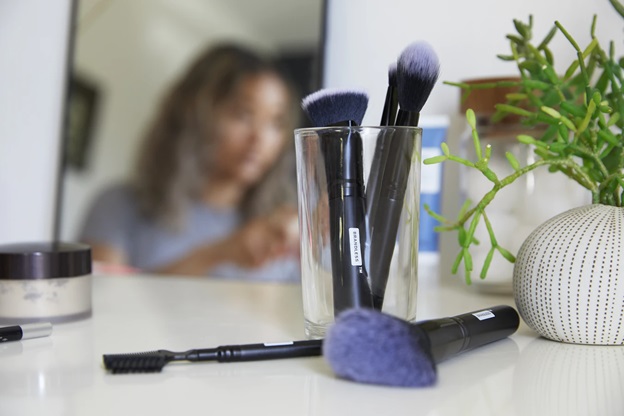 Makeup takes a little creativity and a certain level of skill, there's no denying that, however, kitting out yourself with the right tools and accessories is absolutely going to refine and stylise your beauty looks – whether you're a professional or not! Now, the world of makeup brushes runs far and wide, and when you're not schooled on the subject it is just so easy to get confused with what you actually do and don't need for your day to day routine. Never fear! Follow this guide to makeup brushes that you absolutely need and will use every single day, no over-complicated stuff here!
Foundation Brush
Look for a tapered, flat edge foundation brush to buff and blend your liquid base. The bristles should be long and tightly packed for a flawless finish effect that will look like a second skin – the right brush is imperative for well-blended foundation!
Powder Brush
A powder brush will have loose-packed bristles that fan into a large, fluffy shape perfect for applying both loose and pressed powders. This is great for using large swiping movements that set your makeup without interrupting your hard work. This can multitask for applying bronzer on your temples, cheeks, nose and chin.
Fan Brush
A fan brush is a fan-shaped, long bristled brush that creates a subtle, airbrush finish effect when used with highlighter and contour. The angle allows you to get specific with your application – this one is a total staple for professional makeup artists.
Angled Brush
An angled brush is a loose-packed fluffy brush that tapers into an angle on one end. This is perfect for carving some definition into your face structure, use for creating beautiful contour or buff your blush in a naturalistic fashion by swiping downwards from your cheekbones towards the apples of your cheeks.
Concealer Brush
A concealer brush is a small tool that can either be fluffy for blending or tightly packed for the specific application of cream or liquid concealers. The smaller the brush, the more specific your concealing is going to be – choose in accordance with your skin condition and concealing needs and you won't go wrong.
Blending Brush
An eyeshadow blending brush is such an essential for everyone who wears makeup, if you want to create any kind of eye look then you absolutely need one. The bristles will be about the thickness of a fingertip, loosely packed for ultimate buff-ability. You can use this for shadow, concealer, specific setting or even highlighter.
Tapered Pencil Brush
A tapered pencil brush is your best friend if you love to work with eyeshadow and you don't just want a one-dimensional effect. A tapered pencil brush will be amazing for creating smoky lines, cutting your crease, defining a cat-eye shape or for adding highlight to your brow bone and inner eye corners.
Spoolie
This isn't a brush, but it is a non-negotiable tool that you really need. A spoolie will brush clumps out of your mascara, fluff up your brows and banish residual product from your hairline. It's always going to come in handy.
Lip Brush
A lip brush is great if you love to rock bold colours on the regular, or you're just precise about your gloss application! Paint your perfect pout for a tiny tipped lip brush that's tightly packed for maximum impact.
Makeup Sponge
Makeup sponges have really taken off over the past decade, and it's easy to see why! Use damp for a light coverage effect or dry for all your foundation, powder, blush, bronzer and highlighter tricks – talk about multitasking!
Get hunting for the right makeup brushes for you to take your face to the next level.