9 varieties of maang tikkas for your wedding jewellery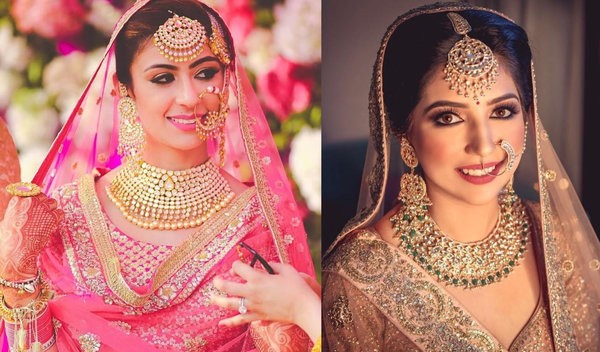 Weddings in India are something that takes place on a high note. No wonder wearing fabulous outfits, jewellery and ornaments come naturally for the brides to mark the Indian weddings. Apart from a whole lot of drama, weddings are also known for the spectacular and exquisite trinkets. All the eyes are on you as you walk down the aisle towards the pavilion on your wedding day.
Among the attractive jewels you wear, what steals the spotlight the most is the adorable maang tikka. You can find many varieties in the market and even while shopping online. They are available in different sizes and contain several gems and embellishments. They spread across various cultures in India, with each of them holding some significance.
Two-in-one head accessory
You cannot miss the opportunity to grab this ethnic and vintage piece. The head covering ornament gives you a royal feel and makes you nothing less than an Empress. You can also draw some inspiration from celebrities wearing it at their weddings. The choker-like maatha Patti available on online jewellery shopping websites gets attached to the sides of the hair to make you a fashion icon.
Simple head accessory
It could be just enough to complement your traditional look if you wish to keep your attire light and minimalistic. This head accessory is a delicate little piece settling on the forehead to look stylish yet bound to the ethnic roots. You may also choose a simple, stone studded Polki hanging or a waterdrop to suit the centre-parted hairstyle.
Rajasthani Borla
It is the perfect accessory to take your look to the next level. The small-sized Borla (ball-like structure) is jaw-dropping for the brides to style the typical Rajasthani look. This chunky bubble can help you make a style statement at your friend's or relative's wedding. Such dazzling pieces can set motivational goals for you to look stylish at all ceremonies. You can also buy maang tikka online at attractive rates and save time.
Chunky Chaand Balis
A little moon-shaped or Chaand Bali shaped head accessory is becoming popular this wedding season. You can find many actresses wearing them in serials and movies. There is no doubt that you can style this the way you desire so that it makes you look like a Queen on your wedding day. You can make heads turn and attract all the attention with this unique yet stylish and ethnic ornament.
Side head accessory
You can try many other ways to wear your head accessory, and a unique style is wearing it on the side. Take away all the attention with just a slight shift in your fashion statement. It adds a special touch to your bridal look and makes you look strikingly different. You can buy it from any authentic website while jewellery shopping online.
Floral flair
If flowers are what you seek to win your beauty game, you can show your fun and quirky side with the blooming patterns of head accessories. Made of flowers, they can make you look stylish and stunning within minutes. All cool brides can go for various styles and options in rose, marigold, floral wreaths, petals and more. Floral crowns and tiaras can also make for something exclusive.
Ghungroo with pearls and beads
This fashion staple and evergreen style can make your choices for headbands easy. You can wear this accessory by itself or add some gold pins on the sides of your hair for a royal look. It has a tiny bunch of beads and pearls with little ghungroos dangling on your forehead. It is ideal for your Mehendi, Sangeet, or wedding day.
Passa or Jhoomar
The royal and magnificent head ornament has become a global fashion staple after the advantage of ordering jewellery online. A heavy brooch in stones, Polki, bead, gold or Kundan, is a choice of millennial girl to look fashionable on her wedding day. The statement piece of jewellery looks regal.
Cool and contemporary design
If you want to set the trend at your wedding, try out this perky non-traditional piece. It is popular with young Indian women these days. Be it your Mehendi night, sangeet or Haldi, the attractive and trendy maang tikka can enhance your personality. The quirky piece represents a fusion of modern and traditional concepts and is available on online jewellery websites.
Keywords: maang tikka, online jewellery shopping, maang tikka online, jewellery shopping online, jewellery online, online jewellery