5 Type Of Most Beautiful Night Dresses Girls Can Wear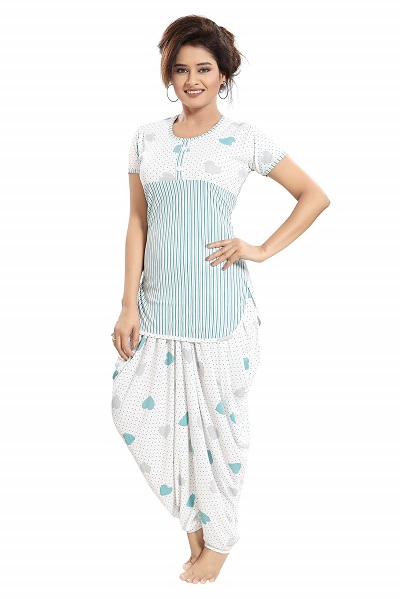 The availability of so many dresses in today's fashion has created a new problem- i.e; selecting of dresses. Despite the availability of so many dresses in the shopping malls and freedom to select them, we still gets confused – what will suit best on us, which night dress would be most comfortable, what we should purchase etc.. The selection of dresses has remained the main problem with girls. If you are one of them who always think too much while purchasing dresses, then researching thoroughly on internet could help you. This article will mainly describe the various types of night dresses available in today's fashion suitable for girls to wear. Although, an average girl are less concerned about selection of night dresses but if you do care then go through this blog page. Keeping in mind the comfortability of wearing night dresses we are mentioning below the 5 most popular type of night dresses.
Top and Pyjama set:- This is the most comfortable night wear set which will keep you relaxed at the bed time. This type of garment is most suitable for girls as it keeps the body free thereby releasing the mental stress and tension. Most of the girls prefer this night dress because of its comfortable feel and because it also gives simple look.
Top and Dhoti Style Bottom Night dress:- This is one of the most demanded and beautiful night dress for girls. It will make you feel pretty and pampered both at the same time. This garment can be the more relaxing when you go for sleep as the comfy fabric materials causes no inconvenience during the sleep. This is very new style adopted as night dress for girls in India of younger age.
Full-Flare Nighty:- Every girls have different perception regarding the choice of night wear but the majority of girls prefer to sleep in nighty. There are various reasons to give full flare nighty as the top priority by the girls. Majority of Indian girls are relatively shy than the western world. They wish to cover their full body. Apart from these reasons, nighty is the most comfortable garment, non-sticky to body, and gives enough breathing space.
Night Gown:- One of the common variety of nighty is night gown. It comes with beautiful stylish design. Wearing this night wear set creates an innocent but naughty look in the bed. This is also considered as the honeymoon dress for making the first love an ageless appeal. The soft and silky touch of this gown make you feel nice and comfy. The soft and lovely fabric can really provide utmost comfort and breathable relaxation. This is perfect night dress for honeymoon for women.
Culotte Jumpsuit with Ruffled Sleeves:- The round neck style night wear garment with half sleeves, Culotte suit is the choice for most of the girls. This type of night wear is smooth, wrinkle free, crepe and the most comfortable while sleeping. It gives an attractive and sexy look which is suitable for regular wear as well as night wear. A culotte jumpsuit is on trending demand because of its versatility and flattering bottom half. You will feel enough relaxation to your body and feel light weight wearing this.
All these type of night wears are trending in the market and many females love to wear them and different occasions. Thanks.