5 Tips for Styling a Modern Batik Dress or Shirt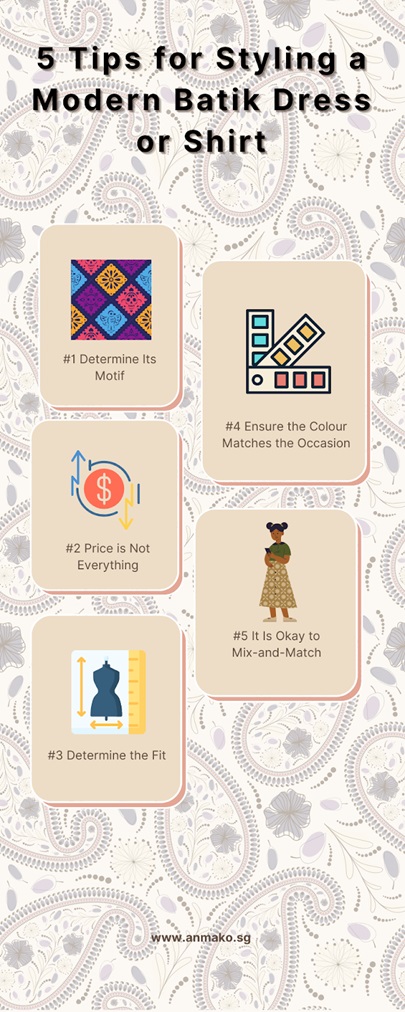 Many are afraid of using printed shirts, like batik, for daily use. Furthermore, most think that prints are too casual to use for the office, events or special occasions. Here are five tips for styling the batik shirt you bought at a Singapore boutique.
#1 Determine Its Motif
Choose a motif that corresponds to your personality or character. Consider when you will utilise this batik shirt theme before selecting it. Opt for a batik shirt with a geometric design if you are heading to your workplace. However, your options are more varied for casual styling.
#2 Price is Not Everything
There are many batik shirt options all over Singapore at various affordable prices. Furthermore, the cost of the shirt should not define your style. Determine what patterns and designs you prefer and learn how they price them.
#3 Determine the Fit
Choose the size of your modern batik shirt or dress that is neither too little nor too large. It does not matter how expensive or cool the batik shirt is. You will look sloppy and haphazard if your clothes are ill-fitting.
#4 Ensure the Colour Matches the Occasion
Colour is just as essential as picking a motif. Bright colours, such as red, yellow, and orange, can be used for informal occasions. Darker colours are appropriate for a more formal gathering. Another thing to consider is that if your skin tone is dark, you should go with a brighter colour.
#5 It Is Okay to Mix-and-Match
It is best to get various batik shirt options from Singapore stores. Wear a short-sleeved batik shirt with a basic theme with jeans for a casual look. You may also pair a long-sleeved batik shirt with dark chinos for more formal attire.
Anmako Singapore fuses old Indonesian art with a modern Japanese flair to create refined and colourful garments. They create unique, attractive, and comfortable clothing using carefully selected authentic cotton and linen fabrics from Indonesia and Japan. You can also buy a matching batik shirt for your man from their selection for a sophisticated couple styling.